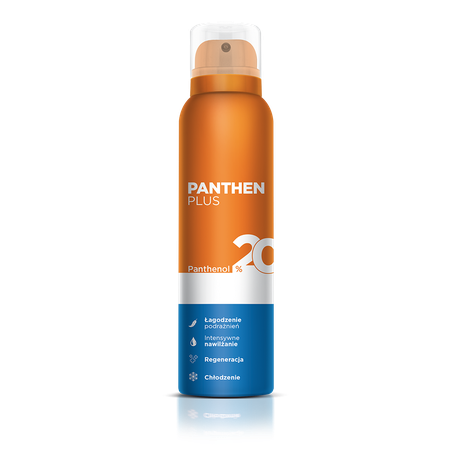 Panthen Plus
Panthen Plus in the form of a cooling foam containing up to 20% panthenol effectively soothes, moisturizes and supports skin regeneration after thermal burns, excessive sunbathing or depilation.

Provitamin B5 (panthenol) is transformed in the skin into pantothenic acid, which ensures the correct course of metabolic processes in the epidermal cells. Aloe leaf juice reduces unpleasant burning and itching sensations, bringing relief to irritated and reddened skin. Sea-buckthorn oil stimulates regeneration processes and strengthens the skin's protective barrier. Thanks to moisturizing ingredients, it nourishes the skin, maintaining its proper moisture level and improving its elasticity.

The delicate foam enables application also on particularly sensitive areas, where the skin is most irritated and dry, and rubbing in may cause discomfort.
Pharmaceutical form Foam. 150 ml
Additional information
Instructions for use: Spray the affected skin several times a day, holding the container 10-20 cm from the sprayed area. Shake the container well before use.

Contraindications: Allergy to any of the ingredients of the preparation.

Storage: Store in a place invisible and inaccessible for children. Do not use after the expiration date stated on the package. Do not store at the temperature above 25ºC.
Marketing Authorization Holder
Aflofarm Farmacja Polska Spółka z o.o.
Information for the consumer
Cosmetics are substances intended for external contact with the human body: skin, hair, lips, nails, external genitals, teeth and mucous membranes of the mouth, used solely or principally for their purity, care, protection, perfumery or beautification.
See how we care about quality
All our products are subject to strict safety requirements
We use rigorous quality control standards and procedures to ensure the highest level of safety for all our products.
See how we care about safety