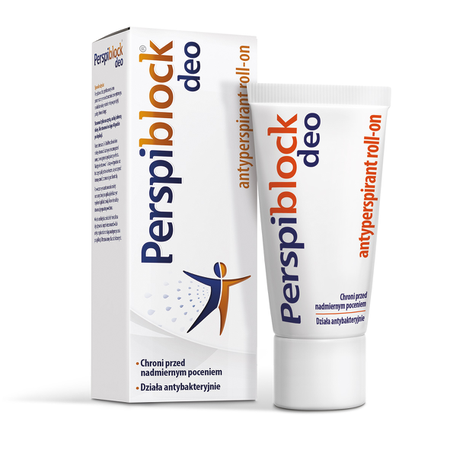 Perspiblock DEO
Perspiblock Deo is an antiperspirant which has been designed and formulated for people with excessive sweating problem for whom traditional antiperspirants have proved ineffective. Perspiblock Deo contains active compounds which effectively reduce excessive perspiration and provide proven antibacterial effect to eliminate unpleasant smell of sweat. It also contains allantoin which soothes and smoothes the skin to prevent irritation.
Additional information
Ingredients:– Aqua, Aluminum Chlorohydrate, Glycerin, Aluminum Lactate, Methylpropanediol, Hydroxyethylcellulose, Phenoxyethanol / Ethylhexylglycerin, Citric Acid / Silver Citrate, Allantoin.
Marketing Authorization Holder
Aflofarm Farmacja Polska Spółka z o.o.
Information for the consumer
Cosmetics are substances intended for external contact with the human body: skin, hair, lips, nails, external genitals, teeth and mucous membranes of the mouth, used solely or principally for their purity, care, protection, perfumery or beautification.
See how we care about quality
All our products are subject to strict safety requirements
We use rigorous quality control standards and procedures to ensure the highest level of safety for all our products.
See how we care about safety