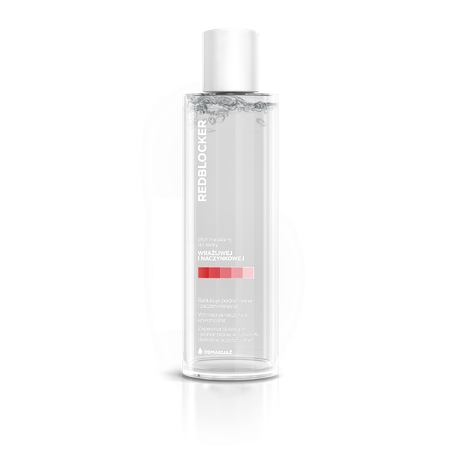 RedBlocker micellar water
RedBlocker micellar water is a special formula designed and formulated to address the needs of especially delicate and demanding couperose skin prone to irritation and redness. RedBlocker micellar water contains chestnut extract to reduce redness, while aescin protects and strengthens fragile blood vessel walls to reduce permeability, redness and visibility of the so-called spider veins. Provitamin B5 relieves irritation and soothes sensitive skin. RedBlocker micellar water is additionally enriched with the Natural Moisturizing Factor (NMF) whose moisturizing agents bind water in the horny layer of skin to ensure instant hydration. Absorbs quickly without leaving your hands feeling oily or greasy.

RedBlocker micellar water:
- relieves irritation and redness
- strengthens capillaries
- ensures thorough and very gentle cleansing for sensitive and couperose skin.
Pharmaceutical form Liquid. 200 ml
Composition
hores chestnut extract, aescin, provitamin B5
Marketing Authorization Holder
Aflofarm Farmacja Polska Spółka z o.o.
Information for the consumer
Cosmetics are substances intended for external contact with the human body: skin, hair, lips, nails, external genitals, teeth and mucous membranes of the mouth, used solely or principally for their purity, care, protection, perfumery or beautification.
See how we care about quality
All our products are subject to strict safety requirements
We use rigorous quality control standards and procedures to ensure the highest level of safety for all our products.
See how we care about safety