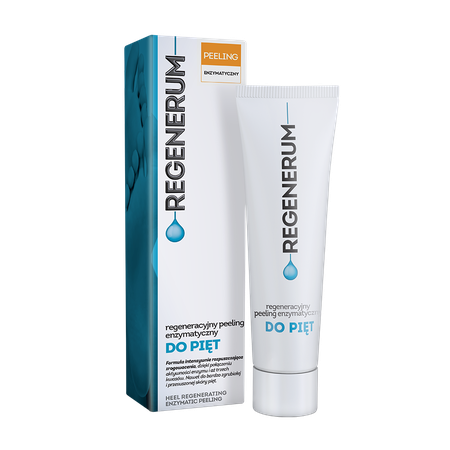 Regenerum regenerating enzymatic heel peeling
Regenerum regenerating enzymatic heel peeling intensively dissolves thickened epidermis without flaking the skin.
Provides spectacular results already after the very first application. It leaves heels deeply regenerated, soft and smooth for a long time. Peeling acts as an acid "pumice" which removes all calluses, corns and blisters, providing effects on a par with professional podological treatments. The
enzyme bromelain exfoliates dead epidermis cells by dissolving them and smoothing skin structure without friction. Additionally, it has a soothing effect, accelerating the regeneration of irritations.
Glycolic acid penetrates deeply into the skin, regenerating its structure. It dissolves thickened stratum corneum, thus reducing its thickness, leaving the skin soft and smooth. It also stimulates fibroblasts to produce collagen and elastin and increases the permeability of active ingredients. Salicylic acid ensures an exfoliating effect by loosening the intercellular connections and removes unnecessary keratinization. Consequently, it also regulates skin cell renewal and its regeneration.
Lactic acid effectively moisturizes and softens rough epidermal surface. Additionally, it supports collagen production and has a beneficial effect on the skin.
Pharmaceutical form Peeling. 50 ml
Composition
Aqua, Propylene Glycol, Lactic Acid, Glycolic Acid, Sodium Hydroxide, Sodium Lactate, Salicylic Acid, Methylpropanediol, Bromelain, Cellulose Gum, Xanthan Gum, Inulin, Cellulose, Glucose, Fructose, Menthol, Caprylyl Glycol, Phenylpropanol.
Marketing Authorization Holder
Aflofarm Farmacja Polska Spółka z o.o.
Information for the consumer
Cosmetics are substances intended for external contact with the human body: skin, hair, lips, nails, external genitals, teeth and mucous membranes of the mouth, used solely or principally for their purity, care, protection, perfumery or beautification.
See how we care about quality
All our products are subject to strict safety requirements
We use rigorous quality control standards and procedures to ensure the highest level of safety for all our products.
See how we care about safety