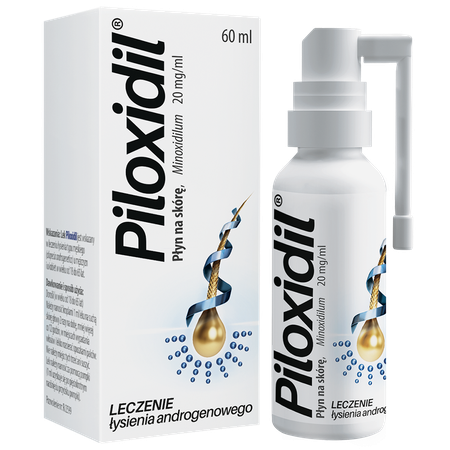 Piloxidil, skin solution
Piloxidil is a topical solution for use on the scalp to prevent hair-loss and stimulate hair regrowth. Piloxidil contains minoxidil – the only non-prescription active ingredient available in OTC medicines for treating androgen-related hair loss (alopecia androgenetica) with clinically proven efficacy. With 2% concentration of the active ingredient, Piloxidil is the safest and most effective treatment for women[1]. Piloxidil comes in a convenient spray-pump container for easy application.

[1] Varothai S, Bergfeld WF. Androgenetic alopecia: an evidence-based treatment update. Am J Clin Dermatol. 2014 Jul;15(3):217-30.
Active substance
20 mg/mL minoxidil (Minoxidilum)
Indications
Piloxidil is indicated to treat male-pattern hair loss (alopecia androgenetica) in men and women between 18 and 65 years. It is most effective in younger people in the early stages of balding, with best effects of treatment obtained on top of the scalp rather than on the front and around the temples. The effects will diminish within a few months if treatment is discontinued.
Contraindications
Do not use Piloxidil in patient with allergy to minoxidil or any other ingredient of the product. Do not use Piloxidil if you are pregnant or breastfeeding or if you have scalp conditions such as severe seborrheic dermatitis, psoriasis or scalp infections. Do not apply Piloxidil to injured skin and sunburned scalp. Do not use Piloxidil if you have hypertension (treated and untreated), right after shaving the scalp, under occlusive dressings or if you are using any other topical scalp medications.
Marketing Authorisation Holder
Aflofarm Farmacja Polska Spółka z o.o.
Information for the patient
Read the package leaflet for indications, contraindications, side effects, dosage as well as information on the use of this product, or consult your doctor or pharmacist before use. Misusing medicines may be dangerous to your life or health.
See how we care about quality
All our products are subject to strict safety requirements
We use rigorous quality control standards and procedures to ensure the highest level of safety for all our products.
See how we care about safety