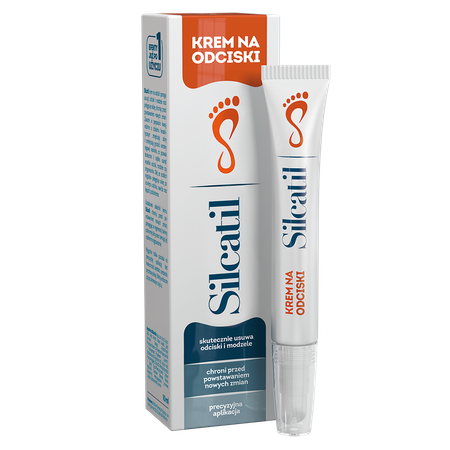 Silcatil anti-corn cream
Silcatil anti-corn cream reduces the thickness of the horny layer of epidermis, moisturizes and calms irritation, and helps regenerate the skin's protective barrier. A handy tube makes precise application easier by eliminating contact with healthy skin. Effects are visible already after first use. Ingredients of Silcatil cream prevent new changes, help regenerate the skin's protective barrier, and prevent excessive keratosis.

Silcatil anti-corn cream:
- effectively removes calluses and corns
- prevents new changes
- softens skin
- conditions skin after removing corns.
Pharmaceutical form concentrate. 10 ml
Composition
Plant acids, sweet almond oil.
Marketing Authorization Holder
Aflofarm Farmacja Polska Spółka z o.o.
Information for the consumer
Cosmetics are substances intended for external contact with the human body: skin, hair, lips, nails, external genitals, teeth and mucous membranes of the mouth, used solely or principally for their purity, care, protection, perfumery or beautification.
See how we care about quality
All our products are subject to strict safety requirements
We use rigorous quality control standards and procedures to ensure the highest level of safety for all our products.
See how we care about safety