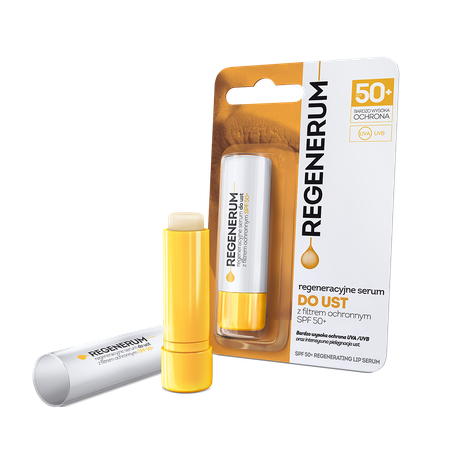 SPF 50+REGENERATING LIP SERUM
Lip sunscreen and conditioner when exposed to sun, wind or cold. Conditions and shields your lips against harmful external factors. Formulated with natural ingredients, deeply hydrates and nourishes for super smooth, soft and plump lip effect. Forms an ultra-light protective screen to prevent cracked, chapped, dry or rough lips. A potent antioxidant Vitamin E protects against premature aging of your lip contour to give your lips more volume and firmness. Prevents both loss of collagen and moisture for full and plump look and loss of pigment as you age to keep lips natural colour. Conditions to instantly sooth and calm irritated skin for healthy, sensual and alluring lips.
Pharmaceutical form pin. 5 g
Marketing Authorization Holder
Aflofarm Farmacja Polska Spółka z o.o.
Information for the consumer
Cosmetics are substances intended for external contact with the human body: skin, hair, lips, nails, external genitals, teeth and mucous membranes of the mouth, used solely or principally for their purity, care, protection, perfumery or beautification.
See how we care about quality
All our products are subject to strict safety requirements
We use rigorous quality control standards and procedures to ensure the highest level of safety for all our products.
See how we care about safety