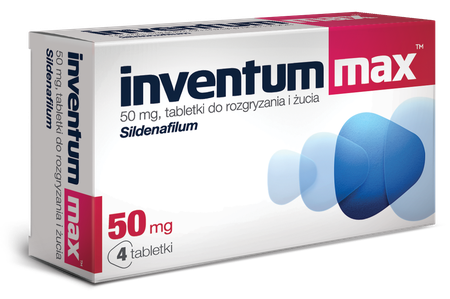 Inventum Max
Inventum Max is indicated for use in adult men with erectile dysfunction, which is the inability to obtain or maintain a penile erection sufficient for sexual intercourse.
Inventum Max contains double the dose* of sildenafil in 1 tablet, the effectiveness** of which in treating erectile dysfunction is confirmed by studies.
The greatest comfort in using Inventum Max relates to the complete control that the medication gives the patient after use. Arousal and sexual stimulation are necessary for an erection to occur. This is an undoubted advantage of the action of sildenafil, because there is no question of embarrassing erection, at a time when it is unwanted.

*Inventum Max contains twice the dose of sildenafil per tablet (50 mg), compared with medicinal products containing 25 mg of sildenafil per tablet.
** According to section 5.1 of the SmPC: In fixed-dose studies, erectile improvement was seen in 62% of patients (for the 25 mg dose), 74% (for the 50 mg dose) and 82% (for the 100 mg dose) compared with 25% of patients who received placebo.
Pharmaceutical form chewing tablets. 2 tab.
Additional information
Read the leaflet and perform a Diagnostic Test before use. This medication is for use by adult men only.
Active substance
Each tablet contains 50 mg of sildenafil formed in situ from 70, 24 mg of sildenafil citrate.
Indications
The medicinal product is indicated for use in adult men with erectile dysfunction, which is the inability to obtain or maintain a penile erection sufficient for sexual intercourse. Sexual stimulation is necessary for Inventum Max to work effectively.
Contraindications
Hypersensitivity to the active substance or to any of the excipients. Due to the fact that sildenafil affects metabolism of nitric oxide and cyclic guanosine monophosphate (cGMP), it potentiates the hypotensive effect of nitrates. Concomitant use of sildenafil with nitric oxide-releasing drugs (such as amyl nitrite) or nitrates in any form is therefore contraindicated. Concomitant use of PDE5 inhibitors, including sildenafil, and drugs that stimulate guanylate cyclase, such as riociguat, is contraindicated because it may lead to symptomatic hypotension. Medicinal products for the treatment of erectile dysfunction, including sildenafil, should not be used in men in whom sexual activity is not indicated (e.g. patients with severe cardiovascular disease such as unstable angina or severe heart failure). The medicinal product is contraindicated in patients who have lost vision in one eye as a result of non-arteritic anterior ischaemic optic neuropathy (NAION) regardless of whether this was related or unrelated to prior exposure to a PDE5 inhibitor. The safety of sildenafil has not been studied in the following patient groups: patients with severe hepatic insufficiency, hypotension (blood pressure < 90/50 mmHg), recent stroke or myocardial infarction, and inherited retinal degenerative changes such as retinitis pigmentosa (a small proportion of these patients have genetically determined retinal phosphodiesterase abnormalities). The use of sildenafil in these patients is contraindicated.
Marketing Authorisation Holder
Aflofarm Farmacja Polska Spółka z o.o.
Information for the patient
Read the package leaflet for indications, contraindications, side effects, dosage as well as information on the use of this product, or consult your doctor or pharmacist before use. Misusing medicines may be dangerous to your life or health.
See how we care about quality
All our products are subject to strict safety requirements
We use rigorous quality control standards and procedures to ensure the highest level of safety for all our products.
See how we care about safety