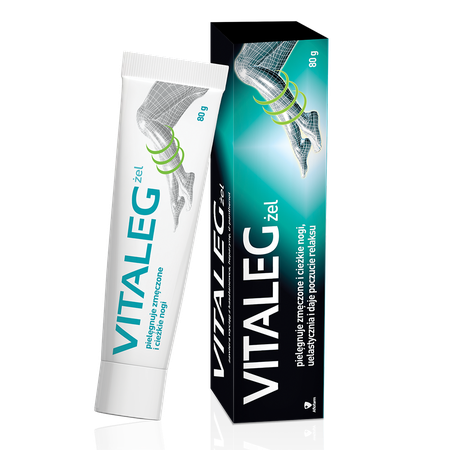 Vitaleg gel
Vitaleg gel is a cosmetic recommended for providing skin care for tired and heavy legs, for people exposed to remaining in a standing position for a prolonged period of time.

Chestnut extract contained in the gel protects the blood vessels and restores elasticity.

Other ingredients bring relief to tired legs, improve skin blood supply and lead to better hydration of the epidermis.
Pharmaceutical form gel. 80 g
Additional information
Directions for use: Usually applied 3-4 times a day by spreading a thin layer of gel, and then rubbing it into the skin of the legs.

Before using the product, you can massage the indicated areas for better gel absorption.

Storage: Store in the original package at a temperature below 25°C. Protect against the light and moisture. Keep out of the reach of children.
Composition
Aqua, Propylene Glycol, Aesculus Hippocastanum, Panthenol, Carbomer, Sodium Hydroxide, Methylparaben, Parfum, Propylparaben, Sodium Heparin.
Contraindications
Allergy to any product ingredient. During pregnancy and lactation the decision to use this product should be made in consultation with a doctor.
Marketing Authorization Holder
Aflofarm Farmacja Polska Spółka z o.o.
Information for the consumer
Cosmetics are substances intended for external contact with the human body: skin, hair, lips, nails, external genitals, teeth and mucous membranes of the mouth, used solely or principally for their purity, care, protection, perfumery or beautification.
See how we care about quality
All our products are subject to strict safety requirements
We use rigorous quality control standards and procedures to ensure the highest level of safety for all our products.
See how we care about safety