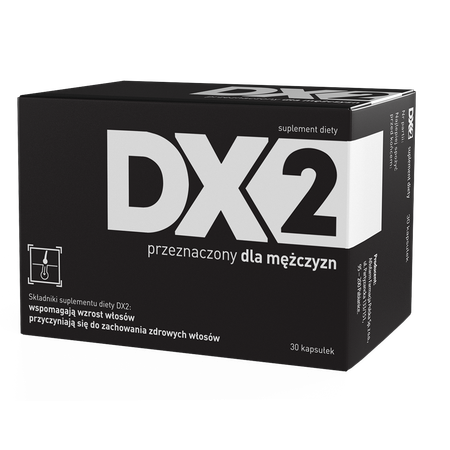 DX2 capsules
DX2 food supplement is a specialist men's care product for stronger and denser hair. DX2 capsules contain common horsetail extract (Equisetum arvense L.) which makes your hair stronger, supports their growth and ensures healthy scalp. L-cysteine is a natural component of keratin fibres while the remaining ingredients (biotin, selenium and zinc) help maintain healthy hair.
Category Dietary suplement
Odwiedź stronę produktu dx2.pl
Composition
Equisetum arvense extract, L-cysteine, zinc, selenium, vitamin B6, vitamin B12, vitamin C, vitamin E, niacin, biotin, pantothenic acid, folic acid, vitamin A, riboflavin, iodine, iron
Marketing Authorisation Holder
Aflofarm Farmacja Polska Spółka z o.o.
Information for the consumer
Food supplements should not be used as substitutes for a varied and well-balanced diet. A varied and balanced diet and healthy lifestyle are essential for good health.
See how we care about quality
All our products are subject to strict safety requirements
We use rigorous quality control standards and procedures to ensure the highest level of safety for all our products.
See how we care about safety