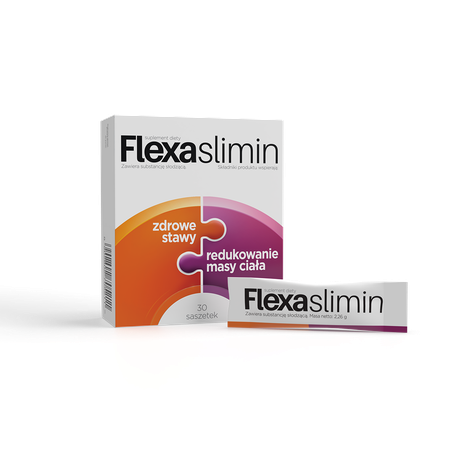 Flexaslimin
Flexaslimin is a fortified glucosamine and collagen hydrolysate protein supplement with hyaluronic acid and Frankincense resin extract for healthy joints, while Prickly Pear Cactus (Opuntia Ficus Indica) Powder and Bitter Orange extract are fat metabolism stimulants and help maintain a healthy weight.
Category Dietary suplement
Composition
Ingredients: relieve your joints for weight loss 1 sachet: Glucosamine sulphate 2KCl 1500 mg, incl. glucosamine 887.67 mg - Vitamin C 37 mg (46% *) - Zinc 4.5 mg (45% *) - Hyaluronic acid 15 mg - Frankincense resin extract 60 mg with Boswellic acid 36 mg - Collagen protein hydrolysate 75 mg – Prickly Pear Cactus (Opuntia Ficus Indica) Powder 60 mg – Bitter Orange extract, incl. p-synephrine 3.6 mg % reference daily intake
Marketing Authorisation Holder
Aflofarm Farmacja Polska Spółka z o.o.
Information for the consumer
Food supplements should not be used as substitutes for a varied and well-balanced diet. A varied and balanced diet and healthy lifestyle are essential for good health.
See how we care about quality
All our products are subject to strict safety requirements
We use rigorous quality control standards and procedures to ensure the highest level of safety for all our products.
See how we care about safety