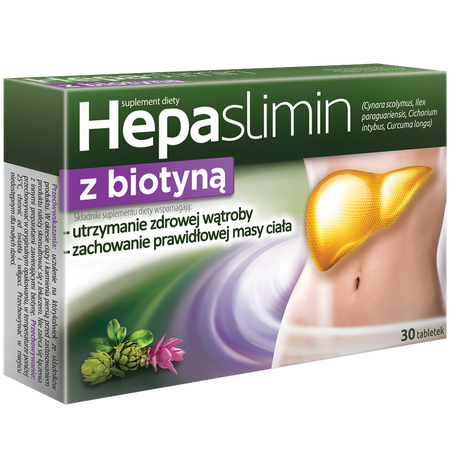 Hepaslimin with biotin
Hepaslimin z biotyną to suplement diety zawierający w swoim składzie biotynę, która pomaga zachować zdrowe włosy i zdrową skórę, a także przyczynia się do utrzymania prawidłowego metabolizmu energetycznego oraz metabolizmu makroskładników odżywczych, jak również cholinę, która jest składnikiem naturalnie występującym w organizmie; wchodzi w skład fosfolipidów budujących błonę komórkową każdej żywej komórki. Zawarty w preparacie wyciąg z liści karczocha przyczynia się do prawidłowego funkcjonowania przewodu pokarmowego i pomaga w utrzymaniu zdrowej wątroby. Wyciąg z korzenia cykorii wspomaga trawienie i pomaga w utrzymaniu zdrowej wątroby. Wyciąg z ostryżu długiego wspiera prawidłową gospodarkę lipidową i wspomaga metabolizm tłuszczu w wątrobie. Wyciąg z liści ostrokrzewu paragwajskiego wspiera proces rozkładu lipidów i pomaga w utrzymaniu prawidłowej masy ciała.
Pharmaceutical form tablets. 30 tab.
Category Dietary suplement
Marketing Authorisation Holder
Aflofarm Farmacja Polska Spółka z o.o.
Information for the consumer
Food supplements should not be used as substitutes for a varied and well-balanced diet. A varied and balanced diet and healthy lifestyle are essential for good health.
See how we care about quality
All our products are subject to strict safety requirements
We use rigorous quality control standards and procedures to ensure the highest level of safety for all our products.
See how we care about safety