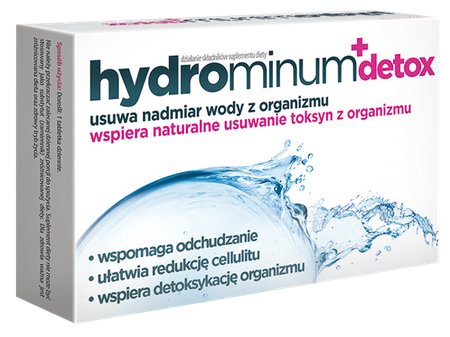 Hydrominum+detox
Hydrominum + detox is a food supplement that contains only natural plant extracts. The product's ingredients support elimination of water from the body and support the natural removal of toxins and metabolic substances. The composition of the product has been enriched with Yerba mate extract, which supports the process of removing excess water from the body, as well as the extract from green chiretta leaves, which supports natural detoxification and antioxidant effects. Moreover, the product's ingredients support weight loss, help maintain proper body weight, facilitate cellulite reduction and support well-being during premenstrual tension.
Pharmaceutical form tablets. 30 tab.
Category Dietary suplement
Composition
bulking agent: cellulose, nettle herb extract, green tea extract, dandelion extract, yerba mate extract, prickly pear fruit extract, grape seed extract, glazing agent: hydroxypropyl methylcellulose, goldenrod herb extract, green chiretta leaf extract, glazing agents: polyvinylpyrrolidone and silicon dioxide, glazing agent: magnesium salts of fatty acids, color: titanium dioxide, glazing agents: hydroxypropyl cellulose, fatty acids, talc, white beeswax and carnauba wax.
Marketing Authorisation Holder
Aflofarm Farmacja Polska Spółka z o.o.
Information for the consumer
Food supplements should not be used as substitutes for a varied and well-balanced diet. A varied and balanced diet and healthy lifestyle are essential for good health.
See how we care about quality
All our products are subject to strict safety requirements
We use rigorous quality control standards and procedures to ensure the highest level of safety for all our products.
See how we care about safety