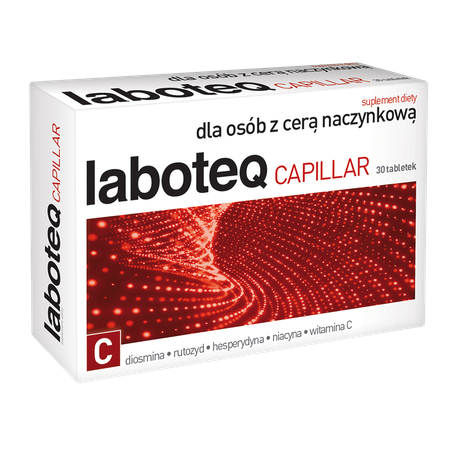 Laboteq Capillar
Laboteq Capillar is a food supplement for women with sensitive and couperose skin. The ingredients of Laboteq CAPILLAR work from within the skin, supporting healthy capillaries and keeping your skin in good and healthy condition. Laboteq CAPILLAR contains a combination of flavonoid compounds (diosmin, rutoside and hesperidin) and niacin which ensures healthy skin and supports proper energy and vitamin C metabolism which is essential for skin health and the proper function of blood vessels, thereby contributing to collagen production and protecting cells from the damaging effects of free radicals.
Category Dietary suplement
Composition
flavonoids (diosmin, rutoside and hesperidin), vitamin C, niacin
Marketing Authorisation Holder
Aflofarm Farmacja Polska Spółka z o.o.
Information for the consumer
Food supplements should not be used as substitutes for a varied and well-balanced diet. A varied and balanced diet and healthy lifestyle are essential for good health.
See how we care about quality
All our products are subject to strict safety requirements
We use rigorous quality control standards and procedures to ensure the highest level of safety for all our products.
See how we care about safety