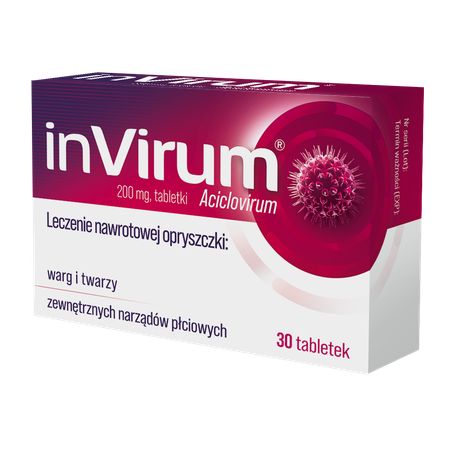 inVirum
Medicine in the form of tablet dedicated to people suffering from recurrent lip and face herpes as well as external genital herpes caused by the herpes virus (Herpes simplex).
Additional information
Precautions: not recommended for patients with renal insufficiency, elderly persons, pregnant and breast-feeding women without prior consultation with a physician. The use of the medicinal product by immunocompromised persons (e.g. after bone marrow transplantation, HIV-infected persons) is not recommended without prior consultation with a physician.

In case of noticing frequent (>6 during the year) and long-lasting (lack of positive effects after 5 days of therapy) relapses of herpes, with more severe clinical symptoms (new outbreaks of infection occurring after 3-4 days of therapy), it is necessary to contact a physician, as this may indicate immunodeficiency or absorption disorders requiring diagnostics and the need for another dosage of the medicinal product. In such cases, the use of acyclovir can be decided only by a physician. Long-term or repeated administration of acyclovir in immunocompromised patients may result in the selection of virus strains with reduced sensitivity towards the medicinal product that may not respond to further treatment with acyclovir.

Adverse effects: disorders of: blood and lymphatic system, immune system, mental and nervous system, chest and mediastinum, stomach and intestines, liver and biliary tract, skin and subcutaneous tissue, kidneys and urinary tract, general disorders and conditions at the site of administration.
Active substance
1 tablet contains 200 mg of acyclovir, excipient with known effect: 1 tablet contains 213.6 mg of monohydrate lactose.
Indications
Treatment of recurrent lip and face herpes. Treatment of recurrent genital herpes caused by the herpes virus (Herpes simplex) in adults.
Contraindications
Hypersensitivity to acyclovir, valacovir or the excipient
Marketing Authorisation Holder
Aflofarm Farmacja Polska Spółka z o.o.
Information for the patient
Read the package leaflet for indications, contraindications, side effects, dosage as well as information on the use of this product, or consult your doctor or pharmacist before use. Misusing medicines may be dangerous to your life or health.
See how we care about quality
All our products are subject to strict safety requirements
We use rigorous quality control standards and procedures to ensure the highest level of safety for all our products.
See how we care about safety