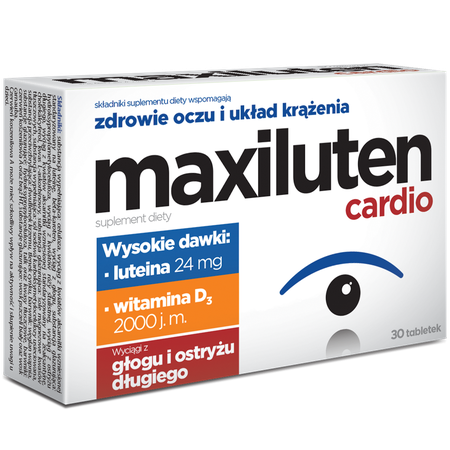 Maxiluten cardio
This formulation helps protect:
• eye health
• healthy heart function and high blood pressure

Maxiluten cardio food supplement works to support eye health and healthy circulatory system.

Maxiluten cardio is formulated with two carotenoids that offer powerhouse antioxidant support for vision longevity, i.e. lutein at high concentration and zeaxanthin in addition to vitamins and minerals (beta-carotene which is the natural source of vitamin A and zinc) to support body functions. Maxiluten food supplement can help protect eyes from harmful high-energy light waves that may impair your vision. Infused with hawthorn and curcuma longa extracts to support cardiac health and circulatory system.
Category Dietary suplement
Additional information
Provence rose flower extract – helps protect eye health (including retina and lens).

Lutein and zeaxanthin - components of the macula pigment, which constitutes part of the retina. The product uses substances of natural origin, derived from standardized marigold flower extracts.

Beta-carotene - a source of vitamin A that helps maintain proper vision.

Zinc - helps maintain normal (sharp, clear) vision and contributes to maintaining normal metabolism of vitamin A. In addition, it supports the functioning of the immune system and maintenance of normal cognitive functions.

Vitamin C - helps protect the body (including the eye) against free radicals damage.

Hawthorn extract – may lower blood pressure (BP) for healthy heart function and circulatory system and support blood circulation and oxygen flow.

Curcuma longa extract - to support heart health and affect blood flow from the heart for production of human red cells (RBC).

Dosage: Adults: 1 tablet daily. Do not exceed the recommended daily intake. Food supplements cannot be used as a substitute (replacement) of a varied and balanced diet. A varied diet and a healthy lifestyle are important for your health.

Contraindications
Allergic reactions to any of the product actives. While pregnant or breastfeeding consult with a doctor before use.
Composition
Composition Each tablet contains:
Marigold lutein extract - 120 mg (24 mg lutein)
Provence rose flower extract - 40 mg
Marigold zeaxanthin extract - 24 mg (1.2 mg zeaxanthin)
Beta-carotene - 7 mg **
Zinc - 5 mg (50%)*
Vitamin C - 20 mg (25%) *
Vitamin D - 50 μg (2000 IU) (1000%)*
Hawthorn extract – 60 mg
Curcuma longa extract – 30 mg *

* % of the reference intake value
** equal to 1169 μg of retinol equivalent to146% of the reference intake value for vitamin A.
Marketing Authorisation Holder
Aflofarm Farmacja Polska Spółka z o.o.
Information for the consumer
Food supplements should not be used as substitutes for a varied and well-balanced diet. A varied and balanced diet and healthy lifestyle are essential for good health.
See how we care about quality
All our products are subject to strict safety requirements
We use rigorous quality control standards and procedures to ensure the highest level of safety for all our products.
See how we care about safety