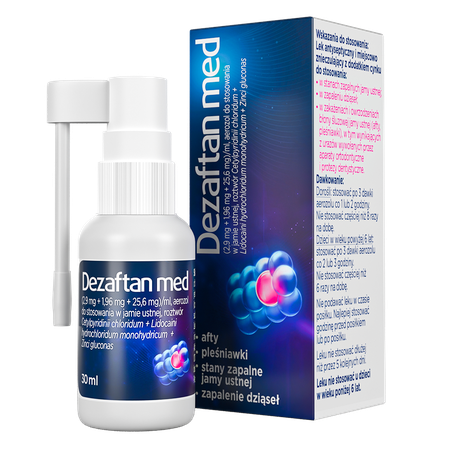 Dezaftan med, spray for oral use
Dezaftan med is an antiseptic and local anaesthetic acting on problems occurring in the oral cavity - inflammations, gingivitis, aphthae or mechanical injuries. Dezaftan med quickly anesthetizes the painful area, bringing relief already after about 1 minute after application. It indicates antibacterial, antiviral and antifungal properties. Thanks to the applicator it is comfortable to use and hits the painful area precisely.
Pharmaceutical form aerosol. 30 ml
Active substance
1 ml of aerosol contains: 2.9 mg of cetylpyridinium chloride, 1.96 mg of lidocaine hydrochloride monohydrate, and 25.6 mg of zinc gluconate (equivalent to 3.7 mg zinc ions). A single aerosol dose contains 0.17 ml of the solution. 3 aerosol doses (0.51 ml solution) contain 1.5 mg of cetylpyridinium chloride, 1.0 mg of lidocaine hydrochloride monohydrate, and 13.065 mg of zinc gluconate (equivalent to 1.875 mg of zinc ions).
Indications
Antiseptic and local anesthetic medicinal product with zinc indicated in cases of:
- inflammations of the oral cavity;
- gingivitis;
- infections and ulcers of the oral mucosa (aphthous, thrush), including those resulting from injuries caused by braces and dental prostheses.
Contraindications
- Hypersensitivity to active substances, other local anesthetics of the amide group or to any of the excipients.
- Severe hepatic or renal insufficiency.
- Congenital or idiopathic methemoglobinemia.
- Children less than 6 years of age.
- Myasthenia gravis.
Marketing Authorisation Holder
Aflofarm Farmacja Polska Spółka z o.o.
Information for the patient
Read the package leaflet for indications, contraindications, side effects, dosage as well as information on the use of this product, or consult your doctor or pharmacist before use. Misusing medicines may be dangerous to your life or health.
See how we care about quality
All our products are subject to strict safety requirements
We use rigorous quality control standards and procedures to ensure the highest level of safety for all our products.
See how we care about safety