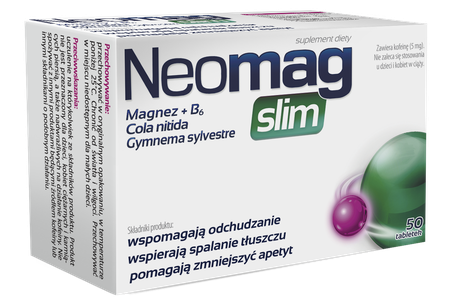 Neomag Slim
Neomag Slim is a food supplement formulated with magnesium, Vitamin B6, and two natural extracts, i.e. Cola nitida seed and Gymnema Sylvestre Leaf. Magnesium and Vitamin B6, both linked to mental health, are known nervous and immune system support and potent anti-fatigue agents. Magnesium is an electrolyte that must be replenished regularly for healthy brain and muscle functions. Helps your cells turn nutrients into energy. Vitamin B plays an essential role in hormonal health and healthy nervous system. Coli nitida seed extract help stimulate fat and weight loss. Gymnema Sylvestre Leaf extract improves blood glucose control. Is thought to block sugar and fat absorption for healthy body weight. Supresses sugar taste and helps reduce sugar cravings.
Pharmaceutical form tablets. 50 tab.
Pharmaceutical form tablets. 50 tab.
Category Dietary suplement
Composition
Ingredients: magnesium carbonate, bulking agent: cellulose, Cola nitida seed extract, Gymnema Sylvestre leaf extract, bulking agent: calcium phosphates, glazing agents: hydroxypropyl methylcellulose and magnesium salts of fatty acids, colourant: calcium carbonate, glazing agent: hydroxypropyl cellulose, pyridoxine hydrochloride, glazing agents: white beeswax and carnauba wax.
Marketing Authorisation Holder
Aflofarm Farmacja Polska Spółka z o.o.
Information for the consumer
Food supplements should not be used as substitutes for a varied and well-balanced diet. A varied and balanced diet and healthy lifestyle are essential for good health.
See how we care about quality
All our products are subject to strict safety requirements
We use rigorous quality control standards and procedures to ensure the highest level of safety for all our products.
See how we care about safety