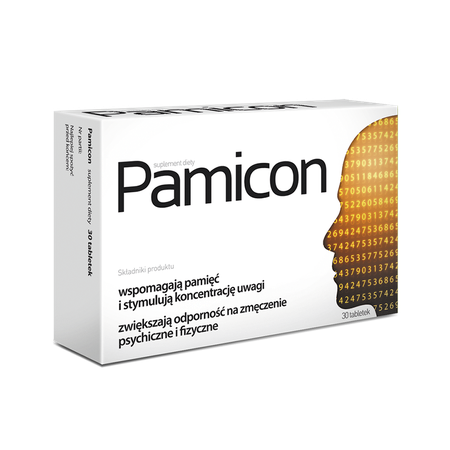 Pamicon
The product's ingredients:

support memory (ginseng root extract) and stimulate focus and concentration (Bacopa monnieri leaf extract),
increase resistance to mental and physical fatigue (mate leaf extract).
Pamicon food supplement is a specially developed preparation, intended for adults. The product's ingredients improve the ability to concentrate and associate as well as enhance memory processes.
Pharmaceutical form tablets. 30 tab.
Category Dietary suplement
Additional information
Directions for use: Adults: 1 tablet a day.

Do not exceed the recommended daily dose. The food supplement cannot be used as a substitute of a varied died.

A varied diet and a healthy lifestyle are important for your health.
Composition
Bulking agent: cellulose , mate leaf extract, ginseng root extract, brahmi leaf extract, glazing agents: hydroxypropylomethyl cellulose, magnesium salts of fatty acids, anti-caking agent: carbon dioxide, colour: titanium dioxide, glazing agent: hydroxypropyl cellulose, colours: Quinoline Yellow, Brown HT, Brilliant Black BN, Green S, glazing agents: beeswax and carnuaba wax.

Quinoline Yellow may have an adverse effect on activity and attention in children.
Contraindications
Allergy to any product ingredient. The productis not suitable for pregnant and breastfeeding women. If case of using medicines, consult your doctor about taking ginseng. The product should not be used for a period longer than 3 months.

Storage: Store in the original package at a temperature below 25°C. Protect against the light and moisture. Keep out of the reach of children.
Marketing Authorisation Holder
Aflofarm Farmacja Polska Spółka z o.o.
Information for the consumer
Food supplements should not be used as substitutes for a varied and well-balanced diet. A varied and balanced diet and healthy lifestyle are essential for good health.
See how we care about quality
All our products are subject to strict safety requirements
We use rigorous quality control standards and procedures to ensure the highest level of safety for all our products.
See how we care about safety