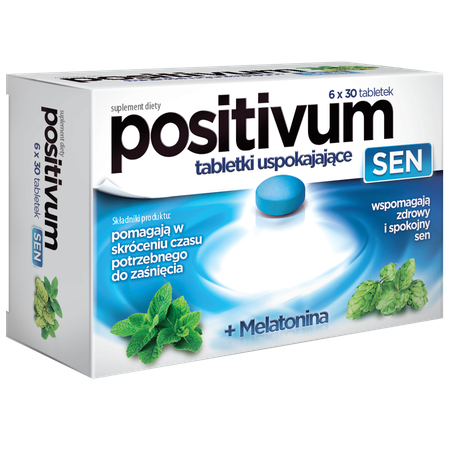 Positivum SEN sedative tablets
Positivum SEN sedative tablets food supplement is a combination of natural plant ingredients and melatonin. Extracts from lemon balm and hops cones help maintain a peaceful and healthy sleep. Melissa herb also supports relaxation and good mood. In addition, melatonin contained in the product helps reduce the time it takes to fall asleep.*
Pharmaceutical form tablets. 180 tab.
Category Dietary suplement
Additional information
Directions for use: adults: 3 tablets per day. Use immediately before going to bed. Do not exceed the recommended daily dose.
Contraindications: allergy to any of the ingredients. Not recommended for drivers and machine operators. Should not be combined with other sedative and/or sleep aids. During pregnancy and lactation the decision to use this product should be made in consultation with a doctor. In case of simultaneous use of antidepressants, consult a doctor or a pharmacist.
Storage: store in the original package, below 25°C. Protect from light and moisture. Keep out of reach of small children.
Composition
Lemon balm herbal extract supports maintenance of healthy sleep, supports maintenance of good and calm rest. Contributes to the reduction of tension and helps achieve a state of relaxation and calmness of the body.
Hops cones extract has a soothing effect and supports maintenance of a peaceful sleep.
Melatonin helps reduce the time it takes to fall asleep*. *beneficial effect occurs when 1 mg of melatonin is taken shortly before going to bed.
Marketing Authorisation Holder
Aflofarm Farmacja Polska Spółka z o.o.
Information for the consumer
Food supplements should not be used as substitutes for a varied and well-balanced diet. A varied and balanced diet and healthy lifestyle are essential for good health.
See how we care about quality
All our products are subject to strict safety requirements
We use rigorous quality control standards and procedures to ensure the highest level of safety for all our products.
See how we care about safety