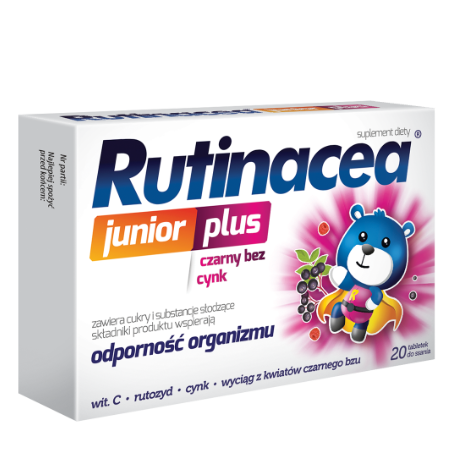 Rutinacea Junior Plus, lozenges
Lozenges for children over 3 years of age and adults, with a fruity taste. The food supplement contains vitamin C and zinc, which help with the normal functioning of the immune system and protect cells from free radicals.

The new version of the product has been enriched with elderberry blossom extract, which supports the functioning of the immune and respiratory systems.
Pharmaceutical form lozenges. 20 loz.
Pharmaceutical form lozenges. 20 loz.
Category Dietary suplement
Composition
glucose, L-ascorbic acid, rutoside, oligosaccharides, aroma, zinc gluconate, elderberry blossom extract, glazing agent: magnesium salts of fatty acids, sweeteners: aspartame, acesulfame K and saccharines.
Marketing Authorisation Holder
Aflofarm Farmacja Polska Spółka z o.o.
Information for the consumer
Food supplements should not be used as substitutes for a varied and well-balanced diet. A varied and balanced diet and healthy lifestyle are essential for good health.
See how we care about quality
All our products are subject to strict safety requirements
We use rigorous quality control standards and procedures to ensure the highest level of safety for all our products.
See how we care about safety