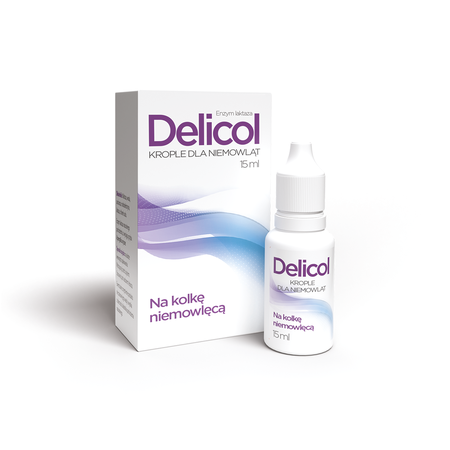 Delicol drops
Delicol is the first product in Poland which reduces causative factors in infant colic. Lactase contained in the product decomposes lactose contained in the milk and makes it better absorbed. This way it prevents colic symptoms as lactose may be a causative factor in infant colic. Its efficiency has been confirmed by numerous clinical trials.
Kategoria Food for special medical purposes
Composition
Maltose, water, sucrose, maltodextrin, lactase, sodium chloride
Application
Delicol is indicated in babies as a dietary product reducing temporary digestive problems (colic) caused by lactose intolerance.
Marketing Authorisation Holder
Aflofarm Farmacja Polska Spółka z o.o.
Information for the consumer
The product is a food for special medical purposes. Always follow the instructions for use. The product is an incomplete food. It can not be used as the sole source of food. The product should not be used parenterally. The product should be administered under the supervision of a physician. If you notice any symptoms, you should contact your doctor immediately.
See how we care about quality
All our products are subject to strict safety requirements
We use rigorous quality control standards and procedures to ensure the highest level of safety for all our products.
See how we care about safety