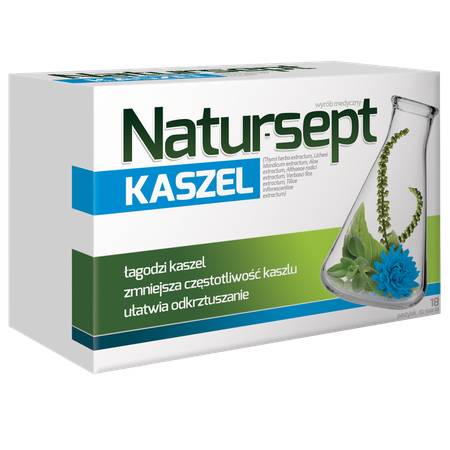 Natur-sept cough lozenges
Natur-sept cough lozenges provide a protective film on the oral mucosal lining to:

relieve cough
reduce the urge to cough
facilitate coughing up phlegm
The ingredients of Natur-sept cough lozenges provide a protective film on the oral mucosal lining to relieve cough. The product protects the oral lining against adverse external influences such as dry and/or cold air, reducing the urge to cough. It improves lubrication of the lining of throat and facilitate coughing up mucus secretions. With soothing properties, the product also help restore the natural balance of the mucous membrane irritated by cough.
Character lozenges. 18 pcs
Character lozenges. 18 pcs
Kategoria Medical devices
Additional information
How to use: Adults and children over 6 years of age: 1 lozenge three times daily. Talk to a doctor if you do not feel better after 5 days of use.

Special warnings and precautions Do not use the product if you are allergic to any of the ingredients. Do not use the product in children under 6 years of age due to the risk of choking. The product contains sugar.

How to store Keep out of the reach of children. Store in original pack. Protect from light and moisture. Do not use after the expiry date. The product must be stored under appropriate conditions.
Composition
Ingredients: sugar, glucose syrup, thyme dense extract, citric acid, Iceland moss dry extract, aloe liquid extract, guava flavour, marshmallow root dense extract, mullein flower extract, linden flower dry extract, lemon oil.
Manufacturer
Aflofarm Farmacja Polska Spółka z o.o.
Information for the user
A medical device is intended for treatment of medical conditions or relief of their symptoms where the essential intended effect is achieved by means other than the use of pharmacological, immunological or metabolic agents.
See how we care about quality
All our products are subject to strict safety requirements
We use rigorous quality control standards and procedures to ensure the highest level of safety for all our products.
See how we care about safety