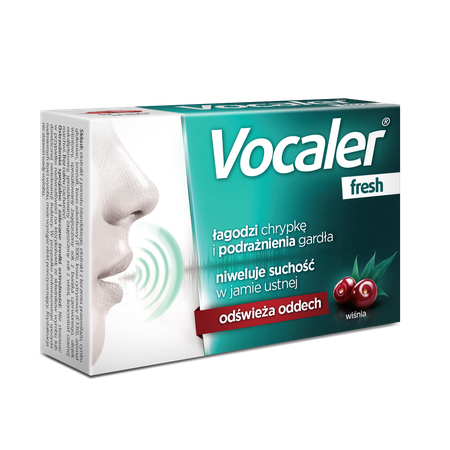 Vocaler Fresh
Vocaler Fresh is a medical device which soothes hoarseness and irritation in the throat thereby restoring the comfort of proper voice production. Vocaler Fresh comes in a form of herbal pastilles which moisturize mucous membrane in the throat and coat it with a protective film, relieving discomfort associated with overuse or straining vocal cords and dry mouth caused by the contact with cigarette smoke or staying in air-conditioned rooms. Vocaler Fresh eliminates temporary problems in voice production and restores the comfort of speaking without the need to clear your throat. Additionally, the zinc contained in the product binds volatile sulfur compounds in the mouth, contributing to maintaining fresh breath.

Vocaler Fresh can also work prophylactically, especially in people exposed to significant strain on the vocal ligaments and during a cold accompanied by a sore throat.
Composition
Iceland moss thallus dry extract, marshmallow root extract, zinc gluconate, isomalt, ascorbic acid (E300), citric acid (E330), cherry flavor, concentrated red beet (beetroot) juice powder, eucalyptus oil, concentrated cherry juice powder, black carrot concentrate. Contains no sugar (sucrose).
Manufacturer
Aflofarm Farmacja Polska Spółka z o.o.
Information for the user
A medical device is intended for treatment of medical conditions or relief of their symptoms where the essential intended effect is achieved by means other than the use of pharmacological, immunological or metabolic agents.
See how we care about quality
All our products are subject to strict safety requirements
We use rigorous quality control standards and procedures to ensure the highest level of safety for all our products.
See how we care about safety