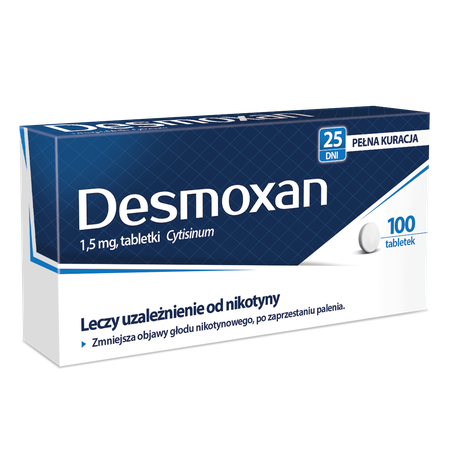 Desmoxan, tablets
Desmoxan is a full 25-day treatment indicated for weaning off smoking. One pack suffices for a full therapy and its cost corresponds to the price of just a few packs of cigarettes. During the therapy, the active substance found in Desmoxan systematically displaces nicotine from the body. This allows for a gradual reduction of nicotine addiction and helps taper off smoking. You will stop smoking in the very first days of the treatment*, reducing the annoying nicotine craving.

*You must quit smoking no later than on the 5th day after you start the treatment.
Additional information
Desmoxan has no influence on the ability to drive and operate machines.
Active substance
One tablet contains 1.5 mg of cytosine.
Indications
Desmoxan is indicated for weaning off smoking and reducing nicotine craving in people who want to stop smoking. The purpose of Desmoxan is to permanently stop using products containing nicotine.
Contraindications
- Hypersensitivity to the active substance or to any excipients;
- Unstable angina pectoris;
- Recent myocardial infarction;
- Clinically relevant cardiac arrhythmias;
- Recent stroke;
- Pregnancy or breastfeeding.
Marketing Authorisation Holder
Aflofarm Farmacja Polska Spółka z o.o.
Information for the patient
Read the package leaflet for indications, contraindications, side effects, dosage as well as information on the use of this product, or consult your doctor or pharmacist before use. Misusing medicines may be dangerous to your life or health.
See how we care about quality
All our products are subject to strict safety requirements
We use rigorous quality control standards and procedures to ensure the highest level of safety for all our products.
See how we care about safety