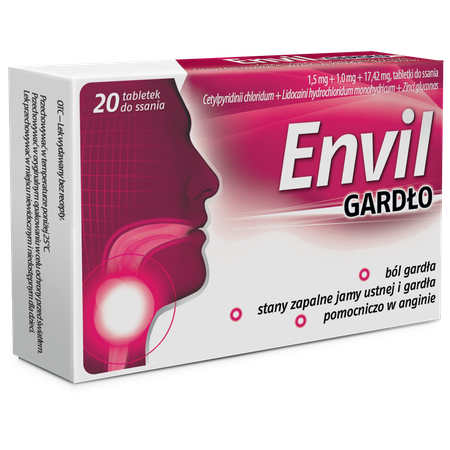 Envil throat, lozenges
Antiseptic and local anaesthetic product containing zinc. For use in throat and mouth inflammations. May also be used as an auxiliary in the treatment of upper respiratory tract infections with sore throat and in tonsillitis.
Additional information
· Cetylpyridinium chloride provides antiseptic, bactericidal and fungicidal effects,
· Lidocaine hydrochloride relieves pain, acting as a local anaesthetic,
· Zinc gluconate supports the body's immune system.
Take special care if you intend to use Envil throat lozenges in patients with throat inflammation and fever which have persisted for several days as well as patients suffering from a sore throat with fever, dizziness, nausea or vomiting. Local anaesthetics, including lidocaine hydrochloride, may cause difficulty swallowing and increase the risk of choking. Avoid eating and drinking immediately after taking Envil throat lozenges. Taking Envil throat may increase the risk of throat and mouth burns caused by hot food and beverages due to reduced heat sensation. Special warnings about excipients. Envil throat contains aspartame and should not be used in patients with phenylketonuria. Envil throat contains mannitol which may cause stomach irritation and diarrhoea.
Active substance
1.5 mg cetylpyridinium chloride (Cetylpyridinii chloridum), 1.0 mg lidocaine hydrochloride (Lidocaini hydrochloridum), 17.42 mg zinc gluconate (Zinci gluconas)
Indications
Antiseptic and local anaesthetic product containing zinc. For use in throat and mouth inflammations. Envil throat may also be used as a complementary drug in the treatment of tonsillitis and upper airway infections with sore throat.
Contraindications
Do not use Envil throat lozenges: in patients with allergy (hypersensitivity) to cetylpyridinium chloride, lidocaine hydrochloride, zinc gluconate (active substances), other local amide anaesthetics or any of the other ingredients in the product.
In patients with severe liver or kidney problems.
In patients with methemoglobinemia – a very rare blood condition resulting in inability of blood to carry oxygen to the tissues.
In children below 6 years of age.
Marketing Authorisation Holder
Aflofarm Farmacja Polska Spółka z o.o.
Information for the patient
Read the package leaflet for indications, contraindications, side effects, dosage as well as information on the use of this product, or consult your doctor or pharmacist before use. Misusing medicines may be dangerous to your life or health.
See how we care about quality
All our products are subject to strict safety requirements
We use rigorous quality control standards and procedures to ensure the highest level of safety for all our products.
See how we care about safety