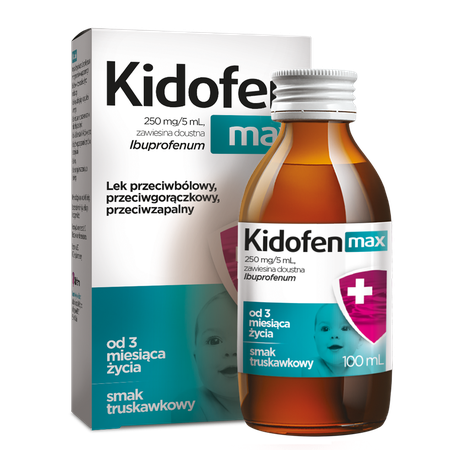 Kidofen max
An analgesic, antipyretic and anti-inflammatory medication recommended for children aged 3 months or older. Having the highest Ibuprofen concentration available on the market, the medication can be administered in smaller amounts.
Pharmaceutical form oral suspension. 100 ml
Active substance
Ibuprofenum 250 mg / 5 ml
Indications
Fever of various cause (also during viral infections and due to vaccine reaction).
Pain of various origin of mild to moderate severity:
- headache, throat and muscle pain, e.g. during viral infections;
- pain in muscles, joints and bones as a result of injuries to the musculoskeletal system (strains, sprains);
- pain due to soft tissue injuries, post-operative pain;
- toothache, pain after dental procedures, pain due to teething;
- headaches;
- earaches associated with middle ear infection (otitis media).
Contraindications
Do not take Kidofen max if:
• if your child is allergic to ibuprofen or other similar analgesic medications (in nonsteroidal anti-inflammatory drug class – NSAID) or any other ingredients of this medicine;
• if you have ever experienced shortness of breath, asthma, runny nose, swelling of the face and (or) hands or hives after taking acetylsalicylic acid (such as aspirin) or other nonsteroidal anti-inflammatory drugs, as Kidofen max may cause similar side effects in these patients;
• if you have or have ever had ulcers in the stomach and (or) duodenum or bleeding (two or more confirmed cases of ulceration or bleeding);
• if you have ever had bleeding or perforation in the digestive tract, associated with the use of NSAIDs;
• if you have severe liver and kidney failure;
• if you have severe heart failure;
• if brain haemorrhage (cerebrovascular bleeding) or other active bleeding occurs;
• if you have a blood clotting disorder, as ibuprofen may prolong bleeding time;
• if you have a blood disorders of unknown cause;
• in children with severe dehydration (caused by vomiting, diarrhea or insufficient fluid intake).

You must not take the medicine in the last 3 months of pregnancy.
Marketing Authorisation Holder
Aflofarm Farmacja Polska Spółka z o.o.
Information for the patient
Read the package leaflet for indications, contraindications, side effects, dosage as well as information on the use of this product, or consult your doctor or pharmacist before use. Misusing medicines may be dangerous to your life or health.
See how we care about quality
All our products are subject to strict safety requirements
We use rigorous quality control standards and procedures to ensure the highest level of safety for all our products.
See how we care about safety