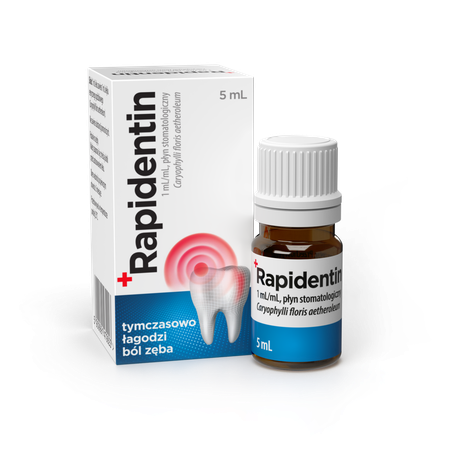 Rapidentin
Rapidentin is a dental topical anesthetic to provide short-term ease to a toothache. Soak a cotton swab with the liquid and apply it to the painful part of the tooth. This OTC pain reliever will instantly fix the tooth pain for a short period allowing for more comfort before dental appointment.
Pharmaceutical form Liquid. 5 ml
Active substance
1 mL of liquid contains 1 mL of clove essential oil (Caryophylli floris aetheroleum).
Indications
Traditional herbal medicinal product for a short-term tooth pain relief. The efficacy of this traditional herbal medicinal product is plausible on the basis of traditional long-standing use and within the above said scope of purpose solely.
Contraindications
If you are known to be allergic/hypersensitive to the active substance or the Balsam of Peru.
Marketing Authorisation Holder
Aflofarm Farmacja Polska Spółka z o.o.
Information for the patient
Read the package leaflet for indications, contraindications, side effects, dosage as well as information on the use of this product, or consult your doctor or pharmacist before use. Misusing medicines may be dangerous to your life or health.
See how we care about quality
All our products are subject to strict safety requirements
We use rigorous quality control standards and procedures to ensure the highest level of safety for all our products.
See how we care about safety