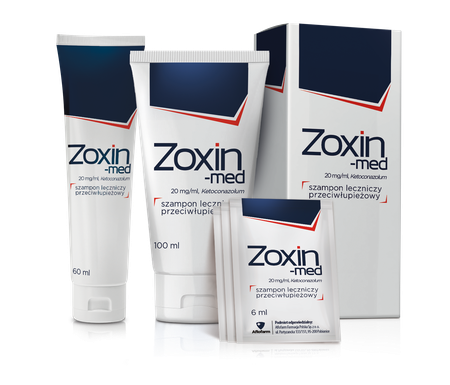 Zoxin-med
Zoxin-med is a medicated anti-dandruff shampoo. Zoxin-med combats the causes and symptoms of dandruff alike. Its main ingredient is 2% ketoconazole – a substance with antifungal action. Ketoconazole kills fungi which are responsible for the development of dandruff. Zoxin-med can also be used as a preventive measure.
Pharmaceutical form sachets. 6 pcs.Z
Pharmaceutical form shampoo. 100 ml
Pharmaceutical form shampoo. 60 ml
Indications
Zoxin-med is indicated in the prevention and treatment of fungal skin infections caused by Malassezia yeast: in dandruff, pityriasis versicolor and seborrheic dermatitis.
Marketing Authorisation Holder
Aflofarm Farmacja Polska Spółka z o.o.
Information for the patient
Read the package leaflet for indications, contraindications, side effects, dosage as well as information on the use of this product, or consult your doctor or pharmacist before use. Misusing medicines may be dangerous to your life or health.
See how we care about quality
All our products are subject to strict safety requirements
We use rigorous quality control standards and procedures to ensure the highest level of safety for all our products.
See how we care about safety