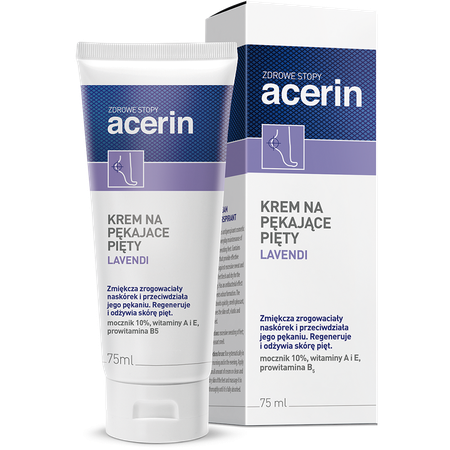 Acerin Lavendi cracked heel cream
Acerin Lavendi contains substances which regenerate broken skin and accelerate restoration. With high urea content (10%), the cream softens calloused skin and prevents cracking. The product has been formulated with glycerine, aloe, allantoin and natural lavender oil to provide intense hydration and nourishment to dry heels prone to calluses.
Pharmaceutical form cream. 75 ml
Additional information
How to use: Use regularly at least twice daily. Apply a small amount of cream to clean and dry heels. Massage thoroughly until completely absorbed. For heavily callused heels, apply generously right before bedtime and put on cotton socks for the night. Suitable for use on the entire foot.

How to store: Store in original pack below 25°C. Do not freeze or refrigerate.
Marketing Authorization Holder
Aflofarm Farmacja Polska Spółka z o.o.
Information for the consumer
Cosmetics are substances intended for external contact with the human body: skin, hair, lips, nails, external genitals, teeth and mucous membranes of the mouth, used solely or principally for their purity, care, protection, perfumery or beautification.
See how we care about quality
All our products are subject to strict safety requirements
We use rigorous quality control standards and procedures to ensure the highest level of safety for all our products.
See how we care about safety