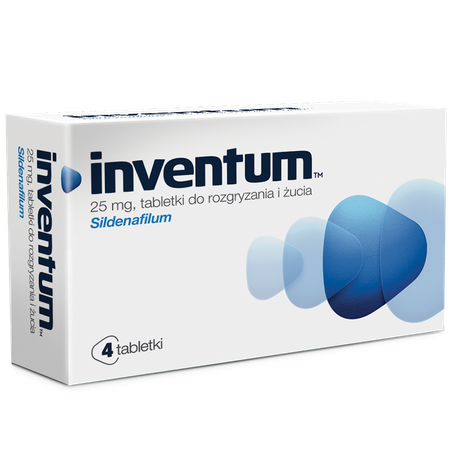 Inventum
Inventum is a medicine used in adult males in erectile dysfunction, defined as the inability to develop or maintain an erection sufficient for an intercourse. The medicine contains sildenafil – one of the best known substances used in the treatment of erectile dysfunction. The product helps develop an erection only when caused by prior sexual arousal. The medicine comes in the form of discreet tablets for biting and chewing that do not have to be taken with water.
Additional information
Before use, read the package leaflet and perform a diagnostic test. The medicine is intended only for men.
Active substance
25 mg sildenafilu (Sildenafilum)
Indications
Inventum is indicated for use in adult males with erectile dysfunction, i.e. the inability to develop or maintain an erection sufficient for an intercourse. In order for Inventum to be effective, sexual stimulation is necessary.
Contraindications
Hypersensitivity to the active substance or any of the excipients. Due to the effect of sildenafil on metabolic transformations involving nitrogen oxide and cyclic guanosine monophosphate (cGMP), sildenafil intensifies the hypotensive effect of nitrates. Simultaneous use of sildenafil and medicines dissolving nitrogen oxide (such as amyl nitrate) or any other nitrates is therefore contraindicated. Simultaneous use of PDE5 inhibitors, including sildenafil, and guanylate cyclase stimulators, such as riociguat, is contraindicated, as it may lead to symptomatic hypotension. Products intended for erectile dysfunction treatment, including sildenafil, should not be used in men in whom sexual activity is not recommended (e.g. patients with severe cardiovascular conditions such as unstable angina pectoris or severe heart failure). Inventum is contraindicated in patients who lost their sight in one eye due to non-arteritic anterior ischaemic optic neuropathy (NAION), regardless of whether it was associated or not with previous exposure to the PDE5 inhibitor. The safety of use of sildenafil has not been studied in the following patient populations: patients with severe liver failure, hypotonia (blood pressure < 90/50 mm Hg), following a recent stroke or myocardial infarction, and with diagnosed hereditary degenerative retinal changes, such as retinitis pigmentosa (a small percentage of such patients have genetic retinal phosphodiesterase abnormalities). The use of sildenafil in such patients is contraindicated.
Marketing Authorisation Holder
Aflofarm Farmacja Polska Spółka z o.o.
Information for the patient
Read the package leaflet for indications, contraindications, side effects, dosage as well as information on the use of this product, or consult your doctor or pharmacist before use. Misusing medicines may be dangerous to your life or health.
See how we care about quality
All our products are subject to strict safety requirements
We use rigorous quality control standards and procedures to ensure the highest level of safety for all our products.
See how we care about safety