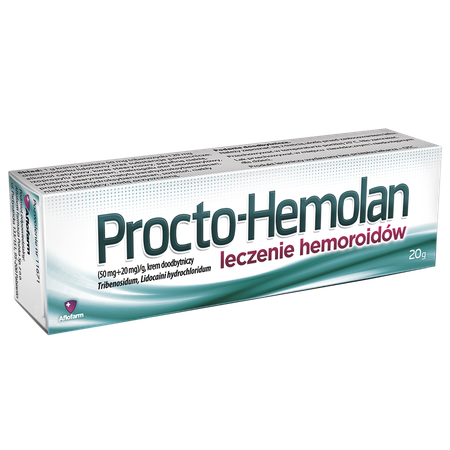 Procto-Hemolan
Procto-Hemolan rectal cream is a haemorrhoids medicine which quickly relieves pain, itching and burning*. Procto-Hemolan relieves discomfort already after 30 seconds of application. It also prevents the formation of blood clots**. Procto-Hemolan works to eliminate the cause of pain, preventing its recurrence.

Procto-Hemolan – fast and long-lasting relief from haemorrhoids.


*Local use of lidocaine provides strong, immediate and relatively long-lasting relief of pain and discomfort. It takes action within 30-60 seconds of application, providing pain-relief lasting for 30-60 minutes. - reference: product registration dossier.
** Tribenoside reduces the permeability of vessel walls and improves vascular tone. It also provides anti-inflammatory and mild anticoagulant effects (see section 5.1 of the Summary of Product Characteristics).



Additional information
The product was manufactured using equipment acquired under a project co-financed by the state budget and the European Union as part of the European Regional Development Fund. Project name: Introducing process and product innovation and increasing competitiveness of Aflofarm through purchase of modern and innovative vacuum homogenizing mixer. European Funds for Development of the Region of Lodz.
Active substance
1 g of the product contains 50 mg tribenoside (Tribenosidum) and 20 mg lidocaine hydrochloride (Lidocaini hydrochloridum).
Indications
External and internal hemorrhoids.
Contraindications
Hypersensitivity to any of the ingredients in the product, particularly to local amide anaesthetics e.g. prilocaine, bupivacaine.
Marketing Authorisation Holder
Aflofarm Farmacja Polska Spółka z o.o.
Information for the patient
Read the package leaflet for indications, contraindications, side effects, dosage as well as information on the use of this product, or consult your doctor or pharmacist before use. Misusing medicines may be dangerous to your life or health.
See how we care about quality
All our products are subject to strict safety requirements
We use rigorous quality control standards and procedures to ensure the highest level of safety for all our products.
See how we care about safety