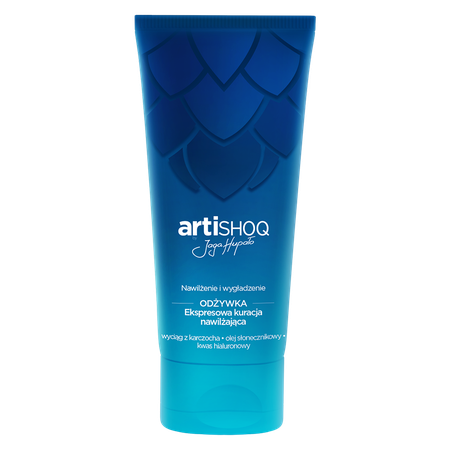 ARTISHOQ Express Moisturizing Treatment
moisturizing and smoothing

Express moisturizing treatment regenerates, strengthens and moisturizes hair for a long time without weighing it down. Thanks to low-molecular hyaluronic acid it also moisturizes the scalp, thus reducing its sensitivity. In combination with sunflower oil, it creates a delicate protective film which prevents water loss, so the hair is optimally moisturized. Artichoke extract, by smoothing the hair structure, reduces its tendency to tangle and break, making it easier to comb and style. The light formula of the conditioner makes hair soft and full of shine after the very first use.
Pharmaceutical form Conditioner. 200 ml
Additional information
Directions for use: After shampooing, thoroughly spread the conditioner on wet hair and massage gently. Leave on for 3 to 5 minutes and then rinse. Use after every hair wash. This product can also be applied to the scalp 2-3 times a week.

Contraindications: Hypersensitivity to any of the product ingredients.
Marketing Authorization Holder
Aflofarm Farmacja Polska Spółka z o.o.
Information for the consumer
Cosmetics are substances intended for external contact with the human body: skin, hair, lips, nails, external genitals, teeth and mucous membranes of the mouth, used solely or principally for their purity, care, protection, perfumery or beautification.
See how we care about quality
All our products are subject to strict safety requirements
We use rigorous quality control standards and procedures to ensure the highest level of safety for all our products.
See how we care about safety