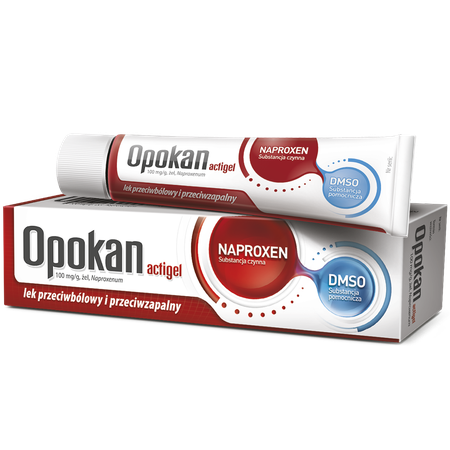 Opokan Actigel
Opokan Actigel is a an analgesic and anti-inflammatory drug in the form of a gel for use on the skin, containing the active substance naproxen and DSMO – an ingredient increasing absorption*, and therefore quickly relieving pain.

It is used in the treatment of:

post-traumatic pain in the spine, muscles and joints (sprains, dislocations, bruises);
pain in degenerative joint disease;
pain in rheumatoid arthritis.
*It cannot be ruled out that the absorption of naproxen after the use of the medicine will be higher than after the use of other medicines containing naproxen with identical concentration and dosage form, but not containing DMSO.
Active substance
1 g of gel contains 100 mg of naproxen (Naproxenum), as naproxen sodium, and other ingredients. Well-known ingredient: propylene glycol
Indications
Post-traumatic pain in the muscles and joints (sprains, dislocations, bruises), spine pain, pain in degenerative joint disease and pain in rheumatoid arthritis.
Contraindications
Hypersensitivity to the active substance or any of the other ingredients; hypersensitivity to other nonsteroidal anti-inflammatory drugs (NSAIDs) and salicylates; do not use on damaged skin (cuts, open oozing wounds, eczema); children under 3 years old; 3rd trimester of pregnancy.
Marketing Authorisation Holder
Aflofarm Farmacja Polska Spółka z o.o.
Information for the patient
Read the package leaflet for indications, contraindications, side effects, dosage as well as information on the use of this product, or consult your doctor or pharmacist before use. Misusing medicines may be dangerous to your life or health.
See how we care about quality
All our products are subject to strict safety requirements
We use rigorous quality control standards and procedures to ensure the highest level of safety for all our products.
See how we care about safety