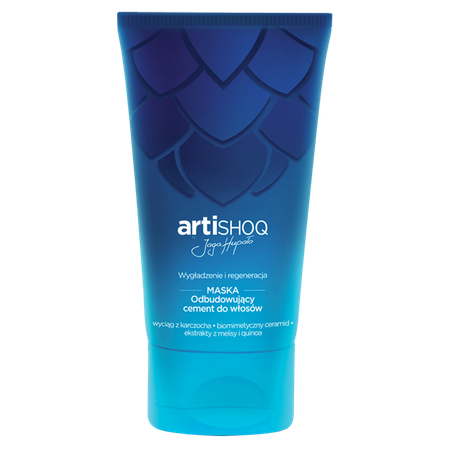 ARTISHOQ Repair strengthening cement
Mask

Intensive cure & silky smooth hair


Ceramide-cement mask repairs, strengthens, smoothes and improves hair's overall elasticity. Biomimetic ceramide found in polyunsaturated fatty acids (PUFA) promotes lipid accumulation and prevents damage caused by combing and styling. Panthenol is a humectant known to attract and retain moisture from the air, keeps hair moist, soft and more pliable. Artichoke leaf extract works as a protective shield to the cuticles of the hair shaft and leaves its surface smooth, sleek, defined and frizz-free. Complex of sunflower, makadamia and monoi oils conditions, protects and gives your hair better look. Blended with extracts from quinoa seeds and lemon balm the mask has strong antioxidative properties that repel free radicals. Rice and corn derivatives protect against harmful effects of high temperature and help preserve colour. If used regularly, the mask prevents hair breakage, brittleness and split ends. Visibly better look of your hair after just one use.
Pharmaceutical form mask. 150 ml
Additional information
Directions for use: Wet your hair thoroughly, towel-dry and apply the mask throughout your hair, spread evenly (with a comb). Leave it on for 15 minutes, then rinse. Avoid contact with eyes.

Contraindications: Hypersensitivity to any of the product ingredients.
Marketing Authorization Holder
Aflofarm Farmacja Polska Spółka z o.o.
Information for the consumer
Cosmetics are substances intended for external contact with the human body: skin, hair, lips, nails, external genitals, teeth and mucous membranes of the mouth, used solely or principally for their purity, care, protection, perfumery or beautification.
See how we care about quality
All our products are subject to strict safety requirements
We use rigorous quality control standards and procedures to ensure the highest level of safety for all our products.
See how we care about safety