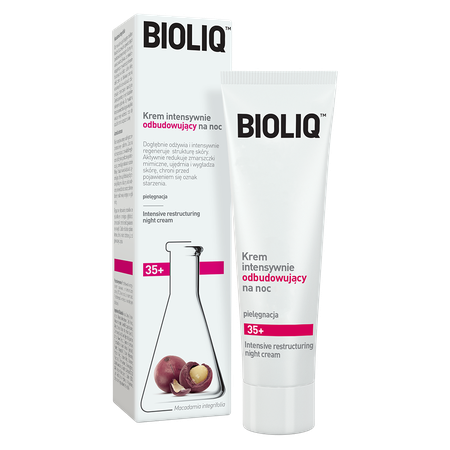 Bioliq 35+ Intensive restructuring night cream
The cream removes mimic wrinkles. It helps restructure the skin, providing its deep regeneration.

The base of the cream is macadamia nut (macadamia integrifolia) oil which intensely nourishes and moisturizes the skin. Thanks to a high content of palmitoleic acid, the cream absorbs perfectly, allowing a deep strengthening and regeneration of the skin at night. Alkylamides stimulate the action of fibroblasts, visibly smoothing out mimic wrinkles and improving the skin's condition, restoring its firmness and elasticity. In the morning, skin is smooth, well rested and full of shine.
Marketing Authorization Holder
Aflofarm Farmacja Polska Spółka z o.o.
Information for the consumer
Cosmetics are substances intended for external contact with the human body: skin, hair, lips, nails, external genitals, teeth and mucous membranes of the mouth, used solely or principally for their purity, care, protection, perfumery or beautification.
See how we care about quality
All our products are subject to strict safety requirements
We use rigorous quality control standards and procedures to ensure the highest level of safety for all our products.
See how we care about safety