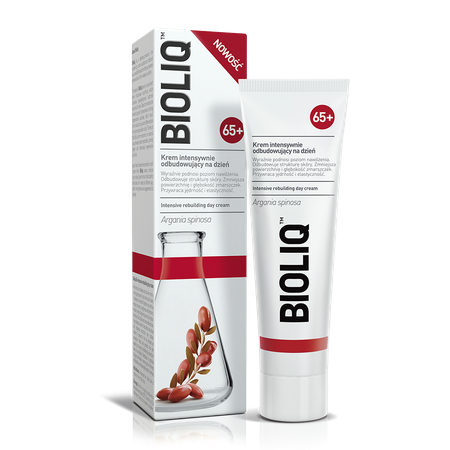 Bioliq 65+ Intensive rebuilding day cream
Clearly improves the level of hydration. Rebuilds skin structure. Reduces both the surface and the depth of wrinkles. Restores firmness and flexibility.
Intensively stimulates the natural processes of skin reconstruction. Hyaluronic acid contained in the cream clearly increases the level of hydration as well as reduces dryness, roughness and tension of the skin. Argan oil (Argania spinosa), a rich source of unsaturated fatty acids, supplements lipid and ceramides deficiencies in the skin. The cream also rebuilds the skin structure, noticeably smoothing it out, and visibly reduces the surface and depth of wrinkles, restoring both firmness and elasticity of the skin.
Pharmaceutical form cream. 50 ml
Pharmaceutical form cream. 50 ml
Composition
Argan oil (Argania spinosa)
Marketing Authorization Holder
Aflofarm Farmacja Polska Spółka z o.o.
Information for the consumer
Cosmetics are substances intended for external contact with the human body: skin, hair, lips, nails, external genitals, teeth and mucous membranes of the mouth, used solely or principally for their purity, care, protection, perfumery or beautification.
See how we care about quality
All our products are subject to strict safety requirements
We use rigorous quality control standards and procedures to ensure the highest level of safety for all our products.
See how we care about safety