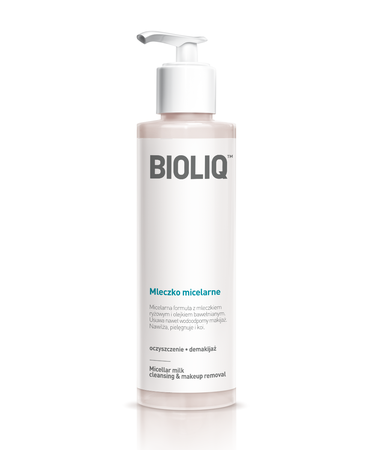 Bioliq CLEAN Micellar milk
Bioliq CLEAN Micellar Milk velvety formula combines what is best about cottonseed oil and rice milk. This blend makes BIOLIQ MICELLAR MILK truly nourishing for soft & velvety skin effect without leaving it stressed or with greasy film. This milk micellar formula moisturises face, neck and eyelids while micelles help cleanse and remove makeup, regardless of whether set to last longer or waterproof. It nourishes eyelashes.

Rice milk is a known emulsifier rich in proteins, fatty acids to hydrate and moisturise skin and vitamin E to protect it from damage.
Cottonseed oil is known to benefit skin lipid barrier which becomes stronger for nice smooth appearance and elasticity.
Eyebright extract soothes delicate undereye and eyelid areas for pleasant eye comfort. Reduces dark circles.
Pharmaceutical form Liquid. 135 ml
Composition
Rice milk, Cottonseed oil, Eyebright extract
Marketing Authorization Holder
Aflofarm Farmacja Polska Spółka z o.o.
Information for the consumer
Cosmetics are substances intended for external contact with the human body: skin, hair, lips, nails, external genitals, teeth and mucous membranes of the mouth, used solely or principally for their purity, care, protection, perfumery or beautification.
See how we care about quality
All our products are subject to strict safety requirements
We use rigorous quality control standards and procedures to ensure the highest level of safety for all our products.
See how we care about safety