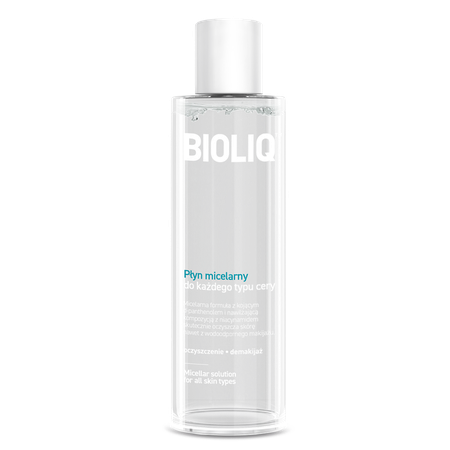 Bioliq Clean Micellar solution
The formula of the Bioliq micellar solution is based on micelles, which form tiny spherical structures encapsulating impurities. This way, it is possible to quickly and easily cleanse the surface of the skin without any harsh rubbing. The solution contains provitamin B5 (dexpanthenol) and moisturizing agents which bind water in the outermost layer of the epidermis, ensuring immediate moisturizing and soothing. The solution makes skin dry and refreshed, without leaving any oily film on its surface.
The solution is paraben free.
Marketing Authorization Holder
Aflofarm Farmacja Polska Spółka z o.o.
Information for the consumer
Cosmetics are substances intended for external contact with the human body: skin, hair, lips, nails, external genitals, teeth and mucous membranes of the mouth, used solely or principally for their purity, care, protection, perfumery or beautification.
See how we care about quality
All our products are subject to strict safety requirements
We use rigorous quality control standards and procedures to ensure the highest level of safety for all our products.
See how we care about safety