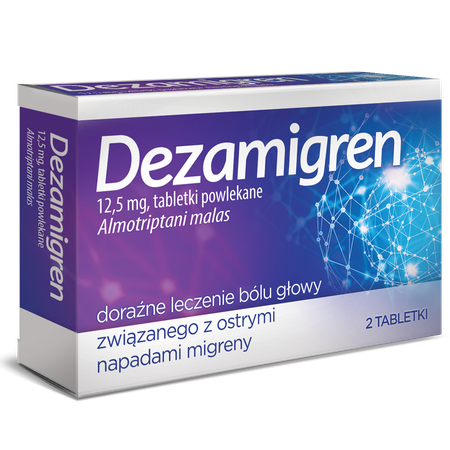 Dezamigren
Dezamigren is a medicinal product which contains the active substance almotriptan used for over 20 years* to treat migraine headache pain – now available without prescription.
Dezamigren is indicated for treatment of acute migraine attacks with and without aura. Almotriptan should only be used in patients with a history of migraine. It can also be used to relieve the accompanying migraine-associated symptoms of nausea, photophobia and phonophobia**
* Pascual J, Vila C. Almotriptan: a review of 20 years' clinical experience. Expert Rev Neurother. 2019 Aug;19(8):759-768
** Pursuant to SmPC point 5.1.
Additional information
Before you start using this medicine read the package leaflet carefully and complete the Diagnostic test.

Posology and method of administration:

Adults (18-65 years old)
The recommended dose is one tablet containing 12.5 mg of almotriptan. A second dose may be taken if the symptoms reappear within 24 hours. This second dose may be taken provided that there is a minimum interval of two hours between the two doses.
The efficacy of a second dose for the treatment of the same attack when an initial dose is ineffective has not been examined in controlled trials. Therefore, if a patient does not respond to the first dose, a second dose should not be taken for the same attack.
The maximum recommended dose is two doses (two tablets) in 24 hours.

Children and adolescents (under 18 years of age)
There are no data concerning the use of almotriptan in children and adolescents, therefore its use in this age group is not recommended.

Elderly (over 65 years of age)
No dosage adjustment is required in the elderly. The safety and effectiveness of almotriptan in patients older than 65 years has not been systematically evaluated.

Renal Impairment
Dosage adjustment is not required in patients with mild to moderate renal impairment. Patients with severe renal impairment should take no more than one 12.5 mg tablet in a 24 hour period.

Hepatic Impairment
There are no data concerning the use of almotriptan in patients with hepatic impairment.
Active substance
Each film-coated tablet contains almotriptan 12.5 mg as almotriptan malate (Almotriptani malas).
Indications
Almotriptan should be taken with liquids as early as possible after the onset of migraine-associated headache but it is also effective when taken at a later stage.
The tablets can be taken with or without food.

Acute treatment of the headache phase of migraine attacks with or without aura.
Contraindications
Hypersensitivity to the active substance or to any of the excipients.
As with other 5-HT1B/1D receptor agonists, almotriptan should not be used in patients with a history, symptoms or signs of any of the following conditions:
- ischaemic heart disease (myocardial infarction, angina pectoris, documented silent ischaemia, Prinzmetal's angina) or
- severe hypertension and uncontrolled mild or moderate hypertension.
- Patients with a previous cerebrovascular accident (CVA) or transient ischaemic attack (TIA).
- Peripheral vascular disease.
- Concomitant administration with ergotamine, ergotamine derivatives (including methysergide) and other 5-HT1B/1D agonists is
contraindicated.
- Patients with severe hepatic impairment.
Marketing Authorisation Holder
Aflofarm Farmacja Polska Spółka z o.o.
Information for the patient
Read the package leaflet for indications, contraindications, side effects, dosage as well as information on the use of this product, or consult your doctor or pharmacist before use. Misusing medicines may be dangerous to your life or health.
See how we care about quality
All our products are subject to strict safety requirements
We use rigorous quality control standards and procedures to ensure the highest level of safety for all our products.
See how we care about safety