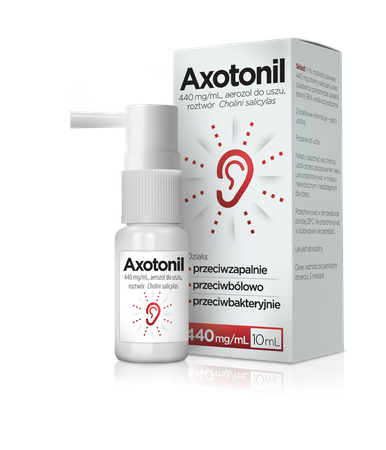 Axotonil
Axotonil is the only1 medication available on the market that contains a double dose2 of choline salicylate - 440mg/mL (approx. 405mg/g).

Ear spray is indicated for use in adults:
- to treat inflammation in the ear canal (EAM) manifested by pain, itching, redness
- to soften earwax buildup before rinsing outer ear canal

Choline salicylate is a substance commonly used in medicine to treat inflammation of the outer ear canal. The convenient form of the applicator with a spray pump enables precise application of the product.

1. The only medicine - when referred to data in the Register of Medicines, as of 20 December 2021.
2. Axotonil contains a double dose of active substance – 440mg/mL (i.e. ca. 405 mg/g) when compared to medications containing 200mg/g of choline salicylate.
Pharmaceutical form aerosol. 10 ml
Additional information
Doses:
Adults:
• For topical, short-term treatment of superficial outer ear infections: one metered dose to be administered directly into each affected ear every 6 to 8 hours for no longer than 3 days.
• To soften earwax buildup before cleaning outer ear canal: one metered dose to be administered directly into each ear canal every 12 hours for 4 days.
Children and adolescents
The product is not recommended for children and adolescents under 18.

The elderly
The adjustment of dose and dosage frequency in the elderly is not necessary.

Patients who are known to have liver and (or) kidney failure
Kidney and (or) liver failure is not a contraindication to use the product as this product is indicated for topical use and shows no systemic effects. No dose adjustment is necessary in patients suffering from kidney and (or) liver failure.
Active substance
1 mL of solution contains 440 mg of choline salicylate (Cholini salicylas). Excipient with known effect: ethanol. 1 mL of solution contains 131.8 mg of ethanol. 0.05 mL of solution contains 6.59 mg of ethanol.
Indications
Axotonil is indicated for adults:
- for the treatment of infections and inflammations of the external auditory canal manifested by pain, itching or redness,
- to soften hardened earwax (earwax plug), before cleaning the external ear canal
Contraindications
Contraindications: if you are sensitive to the active substance, other salicylates o any of the excipients. If you have previously diagnosed damage to the eardrum. If you have bleeding or leakage from the ear. If severe ear pain along with deterioration of hearing occurs. Age under 18.
Marketing Authorisation Holder
Aflofarm Farmacja Polska Spółka z o.o.
Information for the patient
Read the package leaflet for indications, contraindications, side effects, dosage as well as information on the use of this product, or consult your doctor or pharmacist before use. Misusing medicines may be dangerous to your life or health.
See how we care about quality
All our products are subject to strict safety requirements
We use rigorous quality control standards and procedures to ensure the highest level of safety for all our products.
See how we care about safety