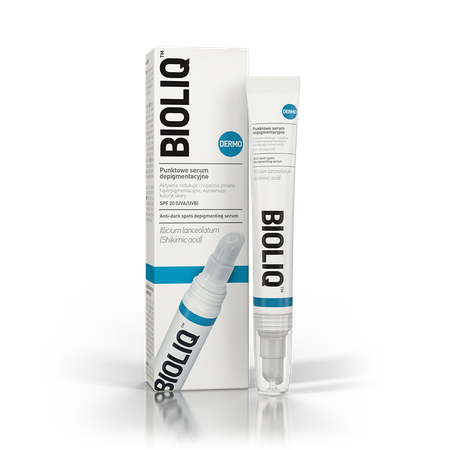 Bioliq Dermo Anti-dark spot depigmenting serum
The serum actively reduces and brightens up various hyperpigmentation changes, restoring the natural skin colour. It contains a sunscreen (SPF 20 UVA/UVB). The active ingredients of the serum intensely reduce and brighten up hyperpigmentation spots of various origin. A peptide compound contributes to the inhibition of the activity of melanocytes, effectively preventing overproduction of melanin in the skin. Shikimic acid, occurring naturally in the illicium lanceolatum shrub, gently exfoliates and evens out the epidermis within the discoloration, accelerating the process of skin tone balancing. The serum contains a sunscreen (SPF 20), protecting the skin against the effect of UVA/UVB rays responsible for stimulating the process of hyperpigmentation. Effectiveness confirmed by dermatological tests: reduction of discoloration already after 2 weeks (if the product is used twice daily on the discoloration). The serum is intended for application on top of the discoloration (areas around the eyes should be avoided). It is recommended in reduction of various discolouration, among others: spots due to sun, acne, as well as caused by age or as a result of hormonal imbalance.
Pharmaceutical form cream. 10 ml
Composition
Shikimic acid (illicium lanceolatum)
Marketing Authorization Holder
Aflofarm Farmacja Polska Spółka z o.o.
Information for the consumer
Cosmetics are substances intended for external contact with the human body: skin, hair, lips, nails, external genitals, teeth and mucous membranes of the mouth, used solely or principally for their purity, care, protection, perfumery or beautification.
See how we care about quality
All our products are subject to strict safety requirements
We use rigorous quality control standards and procedures to ensure the highest level of safety for all our products.
See how we care about safety