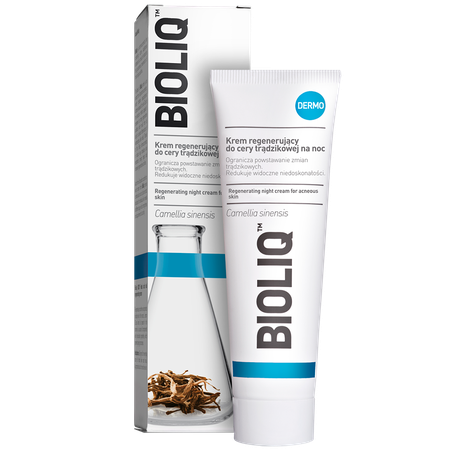 Bioliq Dermo regenerating night cream for acne skin
Reduces the appearance of acne spots. Diminishes visible imperfections.

White tea extract (Camellia sinensis) reduces excessive build-up of exfoliated skin, preventing the development of blackheads. Soothes and comforts, improving the appearance and condition of acneic skin. Contains a combination of olean acid and osmotic gel which normalize the function of sebaceous glands and have antibacterial properties. Additionally supports nighttime skin regeneration processes, accelerates the reduction of acne spots and prevents the appearance of new imperfections. For healthy, well-nourished and rested skin every morning.
Pharmaceutical form cream. 50 ml
Composition
white tea extract (Camellia sinensis)
Marketing Authorization Holder
Aflofarm Farmacja Polska Spółka z o.o.
Information for the consumer
Cosmetics are substances intended for external contact with the human body: skin, hair, lips, nails, external genitals, teeth and mucous membranes of the mouth, used solely or principally for their purity, care, protection, perfumery or beautification.
See how we care about quality
All our products are subject to strict safety requirements
We use rigorous quality control standards and procedures to ensure the highest level of safety for all our products.
See how we care about safety