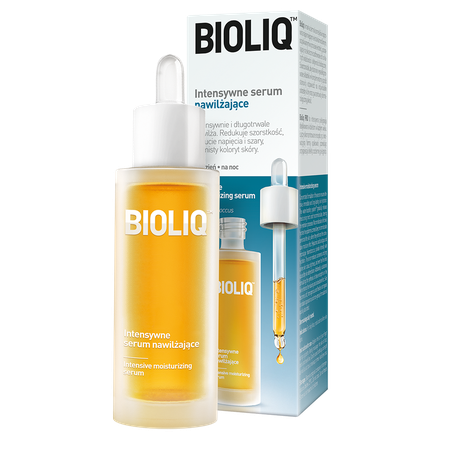 Bioliq PRO Intensive moisturizing serum
Concentrated formulation of the serum ensures intensive, immediate and long-lasting skin hydration. The water-boosting system TM gradually releases moisturising micro and macromolecules, steering the hydration processes. Macromolecules effectively hydrate the epidermis corneal layer, micromolecules penetrate the skin, where they enhance the cumulative moisture effect. Hyaluronic acid analogue and microalgae Haematococcus pluvialis intensify skin hydration. The serum reduces coarseness and grey, ashen skin colour, tightness, and even the fine lines caused by skin dehydration. Additionally, substances stimulating the synthesis of beta-endorphins in the skin enhance the relaxing and antioxidant effect. Skin becomes soft, homogenous and flexible and regains its radiant appearance.
Pharmaceutical form gel. 30 ml
Pharmaceutical form gel. 30 ml
Additional information
For daily face, neck and neckline skin care.
Marketing Authorization Holder
Aflofarm Farmacja Polska Spółka z o.o.
Information for the consumer
Cosmetics are substances intended for external contact with the human body: skin, hair, lips, nails, external genitals, teeth and mucous membranes of the mouth, used solely or principally for their purity, care, protection, perfumery or beautification.
See how we care about quality
All our products are subject to strict safety requirements
We use rigorous quality control standards and procedures to ensure the highest level of safety for all our products.
See how we care about safety