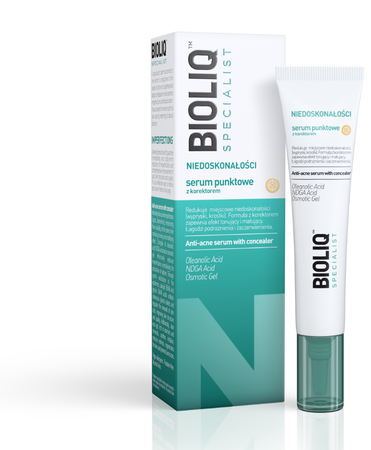 Bioliq Specialist serum punktowe z korektorem
A series of products which guarantee immediate and long-term reduction of imperfections and comprehensive improvement of your skin structure and quality. It is an effective way to reduce post-acne marks at any age.


Anti-acne serum with concealer effectively reduces skin imperfections (spots, blemishes), minimizing their visibility, at the same time creating a toning and mattifying effect. Complex of oleanolic acid, NDGA acid and an osmotic gel effectively reduces imperfections normalising the production of sebum. Through gentle exfoliation of the epidermis, salicylic (BHA) and glycolic (AHA) acids unblock sebaceous glands outlets and regulate the renewal of skin cells, improving skin structure and quality. Additionally, aloe vera gel, rich in vitamins and minerals, soothes irritation, reduces redness, regenerates the skin, and prevents acne scars.
Pharmaceutical form cream. 15 ml
Composition
Oleanolic Acid , NDGA Acid, Osmotic Gel , BHA , AHA
Marketing Authorization Holder
Aflofarm Farmacja Polska Spółka z o.o.
Information for the consumer
Cosmetics are substances intended for external contact with the human body: skin, hair, lips, nails, external genitals, teeth and mucous membranes of the mouth, used solely or principally for their purity, care, protection, perfumery or beautification.
See how we care about quality
All our products are subject to strict safety requirements
We use rigorous quality control standards and procedures to ensure the highest level of safety for all our products.
See how we care about safety