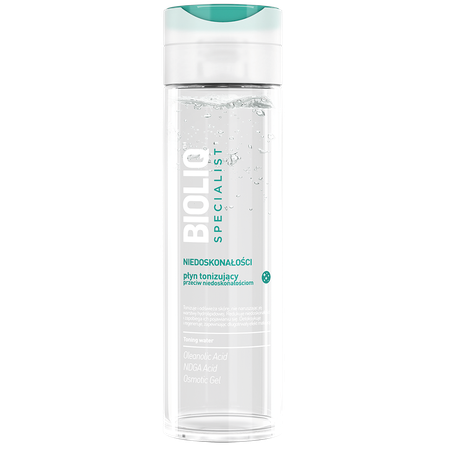 Bioliq Specialist Toning water
The toning water refreshes and tones the skin, restoring its natural balance. It does not affect the skin's hydrolipid layer. Owing to the complex of ingredients: oleanolic acid from olive tee leaves, nordihydroguaiaretic acid (NDGA) and osmotic gel, the water ensures comprehensive care of skin with imperfections. It normalizes sebum production, reduces imperfections (eczema, comedones, blackheads), unclogs and shrinks diluted pores, making it less visible. The white willow extract detoxifies the skin, purifying it of toxins, and has an exfoliating effect. The aloe vera leaf extract has a strong regenerating and soothing effect. The water helps improve the texture and condition of skin, and leaves it matt all day long.
Composition
Oleanolic acid, NDGA, osmotic gel, white willow extract, aloe vera leaf extract
Marketing Authorization Holder
Aflofarm Farmacja Polska Spółka z o.o.
Information for the consumer
Cosmetics are substances intended for external contact with the human body: skin, hair, lips, nails, external genitals, teeth and mucous membranes of the mouth, used solely or principally for their purity, care, protection, perfumery or beautification.
See how we care about quality
All our products are subject to strict safety requirements
We use rigorous quality control standards and procedures to ensure the highest level of safety for all our products.
See how we care about safety