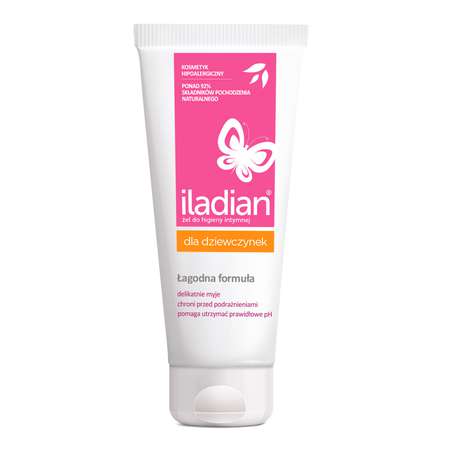 Iladian for girls
Iladian for girls is a hypoallergenic intimate bubble wash gel specially formulated to meet the specific needs of young girls. Iladian gently cleanses and nourishes intimate areas, providing optimal hydration and protecting against irritation. The special formula soothes irritation and relieves itching, restoring comfort to the irritated skin.
The product contains oat oil which hydrates the skin and strengthens its natural protective barrier. Allantoin supports regeneration of especially vulnerable areas and synergizes with bisabolol to soothe and alleviate irritated skin. The formula also contains lactic acid which helps maintain healthy pH levels essential for supporting the natural microflora.
Marketing Authorization Holder
Aflofarm Farmacja Polska Spółka z o.o.
Information for the consumer
Cosmetics are substances intended for external contact with the human body: skin, hair, lips, nails, external genitals, teeth and mucous membranes of the mouth, used solely or principally for their purity, care, protection, perfumery or beautification.
See how we care about quality
All our products are subject to strict safety requirements
We use rigorous quality control standards and procedures to ensure the highest level of safety for all our products.
See how we care about safety