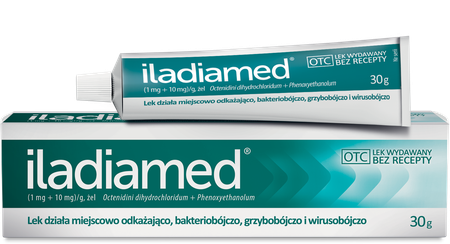 iladiamed
iladiamed OTC medicine is to be applied to genital areas of both males and females to treat vaginal infections and an inflammation of the glans of the penis induced by fungi, bacteria or viruses.
Pharmaceutical form gel. Bezbarwny żel ml
Additional information
iladiamed is to be used - within, around and inside genitals, like vaginal infections or inflammation of the glans (head) of the penis
- as repeated short-course antiseptic aftercare to cleanse mucosa and perineal membrane within genitals and anus, including the vaginal canal, vulva and penis glans and as a disinfectant before indwelling urinary catheterisation (IUC) procedure. This medicinal product can be used in adults and adolescents.
Active substance
1 mg of octenidine dihydrochloride and 10 mg of phenoxyethanol in 1 g of gel.
Contraindications
Hypersensitivity to the active substances or to any of the excipients. This gel should not be inserted to abdominal cavity or applied to the external auditory meatus (ear canal) or eardrum. Octenidine dihydrochloride is more toxic following intravenous administration than following oral administration. This gel should not be allowed to enter the bloodstream in larger quantities. The 0.1% content of octenidine dihydrochloride is highly unlikely to result in toxicity or to produce signs of poisoning.
Marketing Authorisation Holder
Aflofarm Farmacja Polska Spółka z o.o.
Information for the patient
Read the package leaflet for indications, contraindications, side effects, dosage as well as information on the use of this product, or consult your doctor or pharmacist before use. Misusing medicines may be dangerous to your life or health.
See how we care about quality
All our products are subject to strict safety requirements
We use rigorous quality control standards and procedures to ensure the highest level of safety for all our products.
See how we care about safety