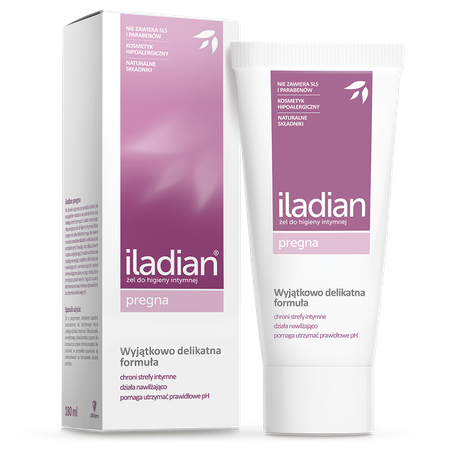 Iladian pregna intimate hygiene gel
During pregnancy and after delivery, women's urinary tract and intimate areas are particularly prone to irritation and infections. The hypoallergenic Iladian pregna intimate hygiene gel not only gently washes, but also contains well-known ingredients with antibacterial properties (extracts of oak bark, cranberry and common witch-hazel). The composition also includes common marigold extract, which has moisturizing properties and properties strengthening the skin's immune system, lemon balm extract, which reduces congestion and alleviates the swelling sensation, and lactic acid, responsible for maintaining normal pH.
Additional information
Gel with a pleasant and delicate scent, intended for everyday wash and care of intimate areas. For external use only. Aqua, Capryl/Capramidopropyl Betaine, Cocamidopropyl Betaine, Glycerin, Hydroxyethylcellulose, PEG-4 Rapeseedamide, Phenoxyethanol/Caprylyl Glycol, Glycerin/Calendula Officinalis Flower Extract, Glycerin/Vaccinium Macrocarpon Fruit Extract, Glycerin/Melissa Officinalis Leaf Extract, Glycerin/Hamamelis Virginiana Bark/Leaf Extract, Disodium EDTA, Parfum, Lactic Acid.
Marketing Authorization Holder
Aflofarm Farmacja Polska Spółka z o.o.
Information for the consumer
Cosmetics are substances intended for external contact with the human body: skin, hair, lips, nails, external genitals, teeth and mucous membranes of the mouth, used solely or principally for their purity, care, protection, perfumery or beautification.
See how we care about quality
All our products are subject to strict safety requirements
We use rigorous quality control standards and procedures to ensure the highest level of safety for all our products.
See how we care about safety