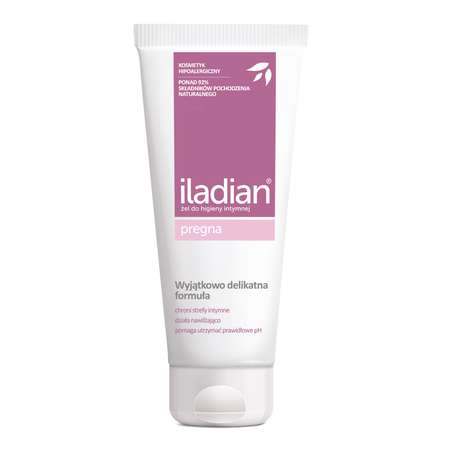 Iladian pregna intimate hygiene gel
During pregnancy, women are particularly vulnerable to suffer from irritation and infections of their intimate areas, as well as hemorrhoids.
Therefore, the hypoallergenic Iladian pregna intimate hygiene gel not only gently cleanses, but also contains ingredients with the following beneficial properties:
antibacterial (licorice extract),
moisturizing (oat oil),
supporting the functioning of the skin's natural protective barrier (oat oil),
increasing resistance to irritation (licorice extract, oat oil),
maintaining normal pH (lactic acid)
In addition, the product's composition also contains a component with prebiotic properties. It stimulates the beneficial skin microflora, and thus additionally protects the skin against irritation.
Pharmaceutical form gel. 180 ml
Marketing Authorization Holder
Aflofarm Farmacja Polska Spółka z o.o.
Information for the consumer
Cosmetics are substances intended for external contact with the human body: skin, hair, lips, nails, external genitals, teeth and mucous membranes of the mouth, used solely or principally for their purity, care, protection, perfumery or beautification.
See how we care about quality
All our products are subject to strict safety requirements
We use rigorous quality control standards and procedures to ensure the highest level of safety for all our products.
See how we care about safety