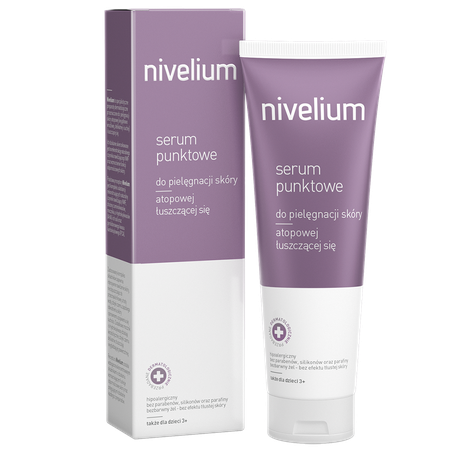 Nivelium serum
Nivelium spot application serum is a specialist dermatological product intended for the care of skin with symptoms of atopic dermatitis and psoriasis. It has a gel concentrated formula which intensively moisturizes skin for up to 12 hours. It creates a satin protective film which effectively protects skin from the negative impact of external factors. The serum visibly softens your skin, alleviating the feeling of itching and reducing uncomfortable dryness, coarseness and tension. It regenerates cracked and flaky skin, brings relief and soothes irritation and redness.
Pharmaceutical form gel. 50 ml
Additional information
For use in particularly dry and coarse areas (such as elbows, knees, hands, face).

The serum is pleasant in use and creates a satin protective film, without any effect of an oily and sticky skin

Hypoallergenic product, free of parabens, silicones and paraffin.
Composition
Complex of NMF reconstructing substances:
amino acids,
urea,
α–hydroxy acids (AHA) and their salts,
protocatechuic acid.

Beta-glucan.

Complex of lipids: ceramides, cholesterol, fatty acids and phytosphingosine.

D-panthenol.

Madonna lily extract.
Marketing Authorization Holder
Aflofarm Farmacja Polska Spółka z o.o.
Information for the consumer
Cosmetics are substances intended for external contact with the human body: skin, hair, lips, nails, external genitals, teeth and mucous membranes of the mouth, used solely or principally for their purity, care, protection, perfumery or beautification.
See how we care about quality
All our products are subject to strict safety requirements
We use rigorous quality control standards and procedures to ensure the highest level of safety for all our products.
See how we care about safety